Killing Ariel
(2006)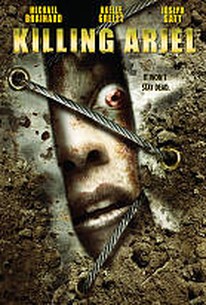 AUDIENCE SCORE
Critic Consensus: No consensus yet.
Movie Info
A happily married man falls under the spell of a powerful demon that just won't die no matter how many times he kills her. Rick was sleeping in bed with his wife when the female demon first appeared. Shortly thereafter, Rick met a beautiful young woman named Ariel and the pair escaped to an isolated cabin for a weekend fling. There, a series of frightening events culminate in Rick accidentally killing his secret lover. But when Ariel refuses to stay dead, Rick quickly realizes that she is, in fact, the same demon that initially attacked him. Now, every time Ariel reappears, Rick is forced to kill her again in order to save his own soul. But later, when Rick escapes and flees back home, his once normal life turns into a torturous nightmare of adultery, lust, madness, and murder.
Critic Reviews for Killing Ariel
All Critics (2) | Fresh (1) | Rotten (1)
I don't know how many times I've asked myself, "How come they're aren't more films about the Incubus?" Well, here's one for you.


Audience Reviews for Killing Ariel
½
Interesting idea of exploring the succubus/incubus myth. But really boring, nothing much happened in the 90 minutes, definitely not scary, simply filled with gratuitous nudity.
Sylvester Kuo
Super Reviewer
I didn't know what to expect from "Killing Ariel," but it turned out to be a very interesting and rewarding horror find. I like a good "operation mindfuck" flick, and this one fills the bill admirably. The screenplay moves forward and backward in time to build the narrative of the destruction of a man whose family has been cursed by an incubus/succubus. Each time a family members has a moral failing, they receive the demons. As a child, he saw the result of this when his mother murdered his paraplegic father and committed suicide. For Rick, the attack comes when he decides to cheat on his wife. Once the curse has begun, it's hard to tell whether what we're seeing exists only in Rick's mind or if it's real until the end of the film. Is Rick really killing Ariel again and again or is he hallucinating the whole thing? We soon lose track of reality, so that by the end of the film, when the events we've seen may be explained by a psychiatrist in an institution for the criminally insane, we can't even be sure that the explanation is real. It's only in the very last few minutes that we can finally be certain of what we've just seen. The acting here is quite good; Michael Brainard as Rick is reminiscent of Jack Nicholson in "The Shining" and Axelle Cummings as Ariel is strong in most scenes, though her somewhat brassy voice sometimes doesn't fit her role well. Joseph Gatt is fine in his limited scenes as the male incubus persona of succubus Ariel. The story takes awhile to set up, but once it does it moves along well. On the downside, the limitations of a low budget production show through in places. There's plenty of blood in the latter half of the movie, though it occasionally isn't completely convincing. The worst problem in the technical realm is the sound; the music and sound effects sometimes overwhelm the dialogue, which is sometimes too quiet even without competing sounds. These are the film's worst problems, though, leaving a very good, original film. Highly recommended for horror fans who enjoy such "reality isn't what it seems" flicks as "Dark City," "In the Mouth of Madness" and the more recent "Inception."
Brian Seitzman
½
As bad as it is, it actually was kinda fun to watch. Not the most horrible movie to watch with a group of friends.
Casey Bruno
Killing Ariel Quotes
There are no approved quotes yet for this movie.
Discussion Forum
Discuss Killing Ariel on our Movie forum!