The Killing of Sister George
(1968)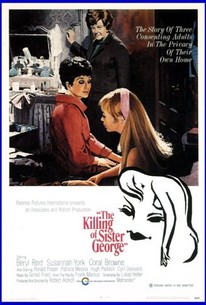 The Killing of Sister George Videos
The Killing of Sister George Photos
Movie Info
Highly controversial at the time of its release, Robert Aldrich's bitter comedy-drama stars Beryl Reid as a soap opera star who is engaged in a dissolving lesbian relationship with an aspiring young actress (Susannah York).
Critic Reviews for The Killing of Sister George
Audience Reviews for The Killing of Sister George
½
An outstanding performance by Beryl Reid, she is not afraid to show her character as an at times rather unpleasant and selfish woman but still very human and makes you feel for her plight, is the highlight of this landmark film with very good support from Susannah York and Coral Browne. Dated and sometimes drawn out still worth seeing for the lead performers.
½
I can understand this movie being culturally significant, but it just isn't a very good story. The set up is a good one, but each character behaves bizarrely, and I'm never sure whether they're trying to show us that these characters are bizarre and broken, or whether they're trying to make some kind of "all lesbians have this funky powerplay thing going on." The ending didn't make the least bit of sense, either. Definitely not worth watching.
Hannah Megill
½
The Killing of Sister George (1968) directed by robert Aldrich of the Hush Hush Sweet Charlotte and What Ever Happened to Baby Jane movies. This was land mark introduction to lesbians and film. So controversial it was rated X when it came out. There were lawsuits and the film died at the box office. Starring Beryl Reid, Susannah York, Coral Browne, Ronald Fraser, Patricia Medina. Its a longish 140 minutes. The film stands up to the test of time. Sister George is a beloved character in the popular radio series Applehurst, a nurse who ministers to the medical needs and personal problems of the local villagers. She is played by June Buckridge, who in real life is a gin-guzzling, cigar-chomping, slightly sadistic masculine woman, the antithesis of the sweet character she plays. June lives with Alice "Childie" McNaught, a younger dim-witted woman she often verbally and sometimes physically abuses. When June discovers her character is scheduled to be killed, she becomes increasingly impossible to work and live with. Mercy Croft, an executive at the radio station, intercedes in her professional and personal lives supposedly to help, but she actually has an agenda of her own. Although it is strongly implied that June and Childie are lesbians, and towards the end it is suggested that Mercy could be as well, this is never explicitly stated. Marcus intended the play to be a farce, not a serious treatment of lesbianism, but because there was so little material about lesbians it became treated as such. It was also to some extent a parody of the killing of Grace Archer in The Archers. The film was much more explicit with the lesbian situations than the book. I saw the film in 1975 at a film revival at TEXAS Tech University and again 09/18/09. When vindictive television executive Mercy Croft (Coral Browne) takes a liking to Alice, she arranges to have June's character, Sister George, killed off the show. Drunk and paranoid, June struggles to keep it together or risk losing Alice. Beryl Reid was nominated for the Golden Globe Award for Best Motion Picture Actress in a Drama. This film has never much been shown on TV except for Turner Classic movies a few times (uncut) in 2007. Its a good interesting movie but from my point Sister George is such an abusive bitch I really did not sympathize with her much. Though wild exotic and X rated in 1968 the movie is tame by todays standards. THE KILLING OF SISTER GEORGE, it remains a historically resonant film, offering the first Hollywood depiction of a woman completely at ease with her love of other women. Reid give a really stunning performance. Recommended for those interested in the Play (by the same name) or this films historical look at lesbianism. four stars
ld pierce
The Killing of Sister George Quotes
There are no approved quotes yet for this movie.
Discussion Forum
Discuss The Killing of Sister George on our Movie forum!