Killjoy 2: Deliverance from Evil
(2002)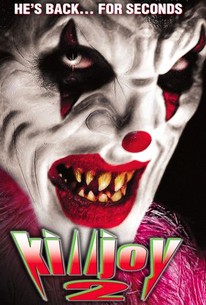 AUDIENCE SCORE
Critic Consensus: No consensus yet.
Movie Info
Director Tammi Sutton's superior sequel to Craig Ross' dismal urban clown shocker Killjoy marks both an improvement over the original (on one-fifth of the budget) and the introduction of almost a completely new character, as Trent Haaga's portrayal of the titular bogeymen rises head and shoulders above that of Angel Vargas in the first film. A pair of juvenile detention officers and their streetwise charges head for the wilderness as part of an Outward Bound-type program, only to run into horror and death. Genre enthusiasts will recall the same set-up being used in Tony Randel's 1994 mutant-bug film Ticks, but it still seems fresh here due to both the subject matter and the relative paucity of horror films dealing with ethnic urban youths in the intervening years (the cast is almost exclusively African-American). After a shooting death and conflicts with the obligatory redneck (Sutton), the kids hole up in the home of an elderly voodoo practitioner (Rhonda Claerbaut), only to be menaced by Killjoy. Cult favorite Debbie Rochon co-stars in this entertaining horror film, which was extensively re-edited prior to release by executive producer J.R. Bookwalter to tighten up what he felt was a rather slow initial cut.
Rating:
R
Genre:
Directed By:
Written By:
In Theaters:
On DVD:
Runtime:
Critic Reviews for Killjoy 2: Deliverance from Evil
There are no critic reviews yet for Killjoy 2: Deliverance from Evil. Keep checking Rotten Tomatoes for updates!
Audience Reviews for Killjoy 2: Deliverance from Evil
This movie accomplishes the seemingly impossible: it's bad even by Killjoy standards. The first film offers far more in the way of entertainment than this devastating sequel can. The dialogue was horrible, but that still doesn't excuse the fact that it is inaudible half of the time due to lazy sound editing. At least the later films are filmed with quality better than 240p.
Aaron Bartuska
Two years after Killjoy and a sequel was made. This time a group of inner city youth are sent into the woods to fix up a cabin as punishment, but are thrown off course when one of them is shot by a backwoods woman with a shotgun and their van breaks down. They hold up in a voodoo woman's house and before you know it Killjoy shows up to taunt and play with these juvenile delinquents. This sequel was just okay, but sadly it takes an almost 40 minutes before Killjoy shows up and when he does he's played well by Trent Haaga. Before it was Angel Vargas, but I guess they wanted to go with a different actor to play him. Not as good as the first movie though, but once Killjoy rears his ugly face in the later half of the film it becomes sort of fun to watch.
The Vulture
½
The clown is more entertaining in this one, but doesn't show up until almost half the film is over. The rest of the characters are too bland to give any interest to. The plot is typical, but there are a few fun kills. Not too memorable of a film, and in the end, it's nothing special, but it still retains a few entertaining qualities.
Wes Shad
Killjoy 2: Deliverance from Evil Quotes
There are no approved quotes yet for this movie.