Kiltro
(2006)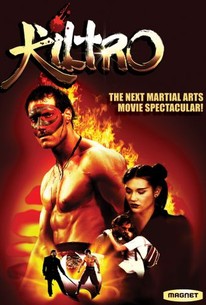 AUDIENCE SCORE
Critic Consensus: No consensus yet.
Movie Info
Chilean brawler and stuntman Marko Zaror marks his emergence onto the international action scene with this fast-paced martial arts film about the leader of a small Chilean street gang who finds redemption by standing up for the people he loves most. Zamir (Zaror) is the leader of the Kiltros, an idol gang of thugs who spend more time being lazy than breaking any serious laws. Some time back, Zamir rescued half-Korean high school girl Kim from being raped, and now he spends the majority of his time obsessing over the pretty schoolgirl. While Kim doesn't have any real interest in Zamir, she continually toys with him by manipulating him to fight the tae kwon do students at her father's dojo. Suddenly, a villainous scoundrel named Max Kalba bursts onto the scene -- hell-bent on a mission to seek vengeance against Kim's father and his students. It seems that Max's late wife was not the faithful kind, and now the enraged widower places the blame for his wife's infidelity square on the shoulders of Kim's father. With nothing left to lose and everything to fight for, Zamir will take on Max in a fight to the finish to protect the people he cares for, and win Kim's heart once and for all.
Critic Reviews for Kiltro
There are no critic reviews yet for Kiltro. Keep checking Rotten Tomatoes for updates!
Audience Reviews for Kiltro
½
So I was stumped on deciding on what to review, so I asked Simon to give something from what he calls "The Random Movie Box" and what he gave me was a Chilean Martial Art movie. This proves Chilean can do Martial Art, but they can't just make a good movie about it. Kiltro is about Zamir who is the leader of the Kiltros, he spends the majority of his time obsessing over the pretty schoolgirl, Kim, he saved a while back. A villain named Max Kalba is hell-bent on a mission to seek vengeance against Kim's father and it's up to Kiltro to stop him. The beginning of movie started out promising with a plot that was believable, unfortunately around the 30 minutes it took a deep plunge in quality and became bad and very ridiculous very quickly. The plot doesn't have a good balance of action and drama, once you get through the first two action sequences you have to wait like an hour until you see another. This wouldn't be a problem if the story was interesting, and by that I mean the flashbacks scene feel so out of place. A good portion of the movie is nothing back flashback which adds nothing new to the story, they just reiterate the same thing over and over in every flashback. Now there are some good lines of dialogue in the movie which is a shame because the story isn't exactly memorable and won't exactly do anything to convince the viewer to invest there time. Now since this movie is from Chile I didn't expect much, but they perform at the same level as Asians Martial Art stars. Every action sequences, except for the disappointing final battle, are all done well and look very convincing. Though what I didn't like was the animated blood. Now I have nothing against special effect in a Martial Art movie, but it looks very cartonnish here. The last battle like I said before is disappointing, you think for a movie that spends allot of time building up the climax you expect something spectacular. Nope, what you get is a slow and unconvincing final battle. The actors were all great, especially Marko Zaror (Kiltro) who's Martial Art ability are incredible, to bad we don't see enough of those ability to good use as his acting isn't the best in the movie. Now I truly think Chilean can do Martial Art, with a little more focus on better stories Chile will be able to compete against Asia in Martial Art. Until that movie comes out I suggest you look elsewhere because you won't find anything worth remembering in this movie.
Caesar Mendez
Super Reviewer
½
Kiltro is my first viewing of Marko Zaror and I am sold. China has Jet Li, Jackie Chan, Donnie Yen, etc. Korea has Doo-hong Jung. Chile has Marko Zaror.
This is Ernesto Díaz Espinoza's debut film and with Marko Zaror leading the way, it turns into a successful martial arts flick. The story is nothing spectacular and for some reason that isn't surprising. What it comes down to is a guy gets a whooping. He leaves to get some training. He returns to kick some ass. Man does that sound unoriginal. Well, there is a little more to it than that, which includes a little bit of romance, but the story is good enough to carry this film over the action. This is a good thing.
While the action does take a back seat to the story, the fighting is what you will remember. That or Caterina Jadresic. It's funny how this film starts. You get a little brawl with Zaror that sort of indicates that this guy is nothing special. Soon after he takes on a group of guys in a martial arts school and this is where Zaror shows a little bit of what he has to offer. Unfortunately, the middle of this hour 40 minute picture lacks in action, although the training scenes are nicely shot. The ending is where all the fights happen. Yes, they are good, but it leaves you wanting more. Another minor flaw throughout the movie is the CG blood, which you can tell is CG.
Marko Zaror also shows that he can act. It isn't award winning, but he can carry a film like Jackie Chan. Did I mention that he can also fight? The leading lady is Caterina Jadresic and she is f****** gorgeous.
Kiltro may have its flaws as it should from a new director. Nonetheless, it is a good watch for fans of martial arts. I'm ready for Mirageman now. Oh yeah, be on the lookout for a couple Ichi the Killer concepts.
½
Fun Chilean martial arts film. Some laugh out loud moments and decent fight scenes make this an easy watch. Also, I think the filmmaker is an Ichi fan from the way "the Korean" is tortured and the main character's weapon/footwear.
Christopher Brown
Super Reviewer
Kiltro Quotes
There are no approved quotes yet for this movie.
Discussion Forum
Discuss Kiltro on our Movie forum!