Kim
(1951)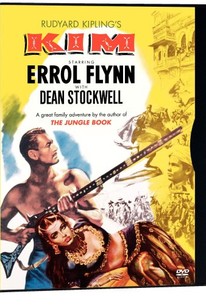 Movie Info
The son of an Irish sergeant, Kim wanders through the streets and hills of Colonial India, disguised as a native boy. Kim's adventures include an episode with a horse trader, a sojourn with a holy lama, and involvement with a plan to rid the Khyber Pass of Czarist Russian agitators.
Critic Reviews for Kim
All Critics (6) | Fresh (6) | Rotten (0)
Bombastic, animated and lush, but hardly convincing or genuine in attitude or atmosphere.

Ozus' World Movie Reviews

Fine later Flynn, pairing him with brilliant child actor Dean Stockwell.

Audience Reviews for Kim
This is the work of the devil. An orphaned British boy is raised in India with the strengths and discipline of an Indian boy. He finds plenty of useful ways to make a living while following his master to perfection. However, the British secret service arrives in India hoping to take down a ruthless gangster and the orphan will need to decide to help or stick to his rigid upbringing. "Let me see you match wits with him." Victor Saville, director of The Silver Chalice, Tonight and Every Night, Green Dolphin Street, Dark Journey, The Office Girl, The Iron Duke, and The W Plan, delivers Kim. The storyline for this picture is very interesting and carried by unique and dynamic characters. The acting is very good and the cast includes Errol Flynn, Dean Stockwell, Paul Lucas, Thomas Gomez, Reginald Owen, and Cecil Kellaway. "Those who beg in silence starve in silence." I came across this picture on Turner Classic Movies (TCM) and had to DVR it since it starred Errol Flynn. This was a well done movie that I thoroughly enjoyed. The characters are worthwhile and entertaining and the film comes together well. I recommend seeing this once. "I killed my first man when I was fifteen years old." Grade: B
Kevin Robbins
½
75/100. A wonderful adventure film, based on the Rudyard Kipling classic story. Errol Flynn is ideally cast and Dean Stockwell does a fine job as well. Excellent color cinematography, impressive art direction. Overall, the production is great. The pacing is a little uneven, it should have been shorter. But it is a fine film, light, exciting and entertaining.
James Higgins
Kim (1950) -- [6.5] -- This Rudyard Kipling adventure stars young Dean Stockwell in the title role, playing a sneaky street-wise kid who spies for British Intelligence in colonial India. The adventure is a little more episodic than I prefer, bringing Kim into contact with several supporting players, including an older spy named Red Beard (an underutilized Errol Flynn), a curt hypnotist (Arnold Moss), and a holy man (Paul Lukas). The story moves briskly, but could have afforded more character moments and grace notes. Still a solid family matinee sort of flick.
Scott Schirmer
Kim Quotes
There are no approved quotes yet for this movie.
Discussion Forum
Discuss Kim on our Movie forum!