Kimjongilia
(2009)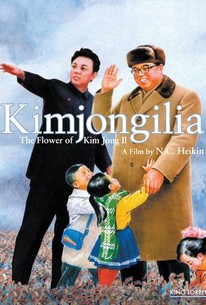 Kimjongilia Videos
Kimjongilia Photos
Movie Info
The film draws its name from the rarefied flower and reveals the extraordinary stories told by survivors of North Korea's vast prison camps, of devastating famine, and of every kind of repression. All of the interviews featured took place in South Korea, where the defectors now live. Their experiences are interspersed with archival footage of North Korean propaganda films and original scenes that illuminate the contours of daily life for a people whose every action is monitored and whose every thought could bring official retribution. Along with the survivors' stories, Kimjongilia examines the mass illusion possible under totalitarianism and the human rights abuses required to maintain that illusion.
Rating:
NR
Genre:
, ,
Directed By:
In Theaters:
On DVD:
Runtime:
Studio:
Watch it now
Critic Reviews for Kimjongilia
Audience Reviews for Kimjongilia
½
This is basically a movie about people telling their sad stories. Each tale that these victims tell is certainly tragic, but the movie does nothing to educate me about the topic.
Erik Dahlman
A very disturbing and emotional documentary on the lives of those North Korea destroyed. Yet, it strangely feels a little scarce with just 75 minutes of film time. No doubt what Kimjongilia executed was very well done, but you just can't help but feel that there's a little more to the story than "Kim Jong Il evil, North Korea evil". Essentially, if you are aware of the political prison death camps in North Korea, then this documentary serve only as a reminder on the horrors behind North Korea's closed doors. Which isn't a bad thing, but Kimjongilia serves nothing more than an introduction to the problems of North Korea. Those who are looking for a deeper look into the dysfunctional nation's problems are better off looking for a more insightful documentary and the history is skimmed over a little too quickly.
J.J. Wang
Fascinating and Very Badly Filmed I was about the only person I know who wasn't laughing when Kim Jong-il died. However, I was too worried about the fate of his country and his people. To my knowledge, no country in the world has ever had a government like North Korea's, and I think the average American thinks far too little about that. It was easy to laugh at Kim Jong-il, Gods know, and Gods know I've done some of the laughing myself. But the whole thing is very uncertain. The current ruler of North Korea, Kim Jong-un, will probably be turning twenty-eight in a week, which is awfully young for the ruler of the country with the fourth-largest military in the world. An unknown number of people are in political prisons. Gulags, not to put to fine a point on it. And even more are starving. North Korea is a deeply troubled little country, and I'm inclined to doubt that the death of one loony is going to make much a difference on the subject, so I don't laugh much. The people interviewed here are probably ill-inclined to laugh themselves. They are survivors, for the most part, of North Korea's gulag system. All of them are escapees--there is no such thing as normal emigration out of North Korea now. Most of them went through China, because the demilitarized zone with South Korea is too heavily guarded. One, knowing his family would probably be split up if they went through China, sailed south in a small boat in foggy seas past the North Korean navy. Which turned out to be sail-powered, because they didn't have any fuel. One of the women was sold into sexual slavery in China; another was carried across the border while in a coma, because medical treatment was actually better in China. One man talks of being tortured and of desperately trying to preserve his hands, because he was a concert pianist. There are tales of starvation. One man tells of his escape from the camp which almost certainly required the death of his only friend. The problem, loosely, is the interpretative dance. You see how that's a jarring transition? Now imagine that you're being told the rules of the camps--which basically all end with "will be punished immediately by death by firing squad"--and some woman in the uniform of a North Korean policewoman is writhing about on the floor. The feel I got was that director N. C. Heikin, apparently herself a dancer, didn't want to do a mere "talking heads" documentary. And there isn't a lot of footage and such of the camps. This is ongoing, and Kim Jong-il wasn't exactly letting people take pictures and publish them worldwide. There are satellite images of the camps, and one of the people interviewed has done drawings, but most of what you have is people talking. And so in order to make it "interesting," she filmed the people at odd angles, so we only got eyes and mouths. To make us really feel what was going on, interpretive dance. And it doesn't work. What's being said is compelling enough. There is a small amount of background given, including clips from those ridiculous giant production numbers the North Korean government forces the people into and a couple of truly bizarre propaganda films. By and large, though, this is a handful of deeply personal stories which paint a picture of a failing country. One woman talks of being forced to sing about spreading the bountiful rice while starving to death. A man talks about how the military itself was starving, about how they planted over their basketball courts and soccer fields with beans. And when North Korea asked for humanitarian aid after the fall of the Soviet Union, it's estimated that at least thirty percent and as much as seventy percent was diverted to the country's elite. All things considered, it probably won't be long until the North Korean elite are themselves starving, but they weren't at the time and anyway they weren't that much of the population. It was easy to make fun of Kim Jong-il, given he was a tiny little man with enormous hair and the kind of sunglasses you used to see on [i]Coffee Talk[/i]. How do you take him seriously after the stories about how he used to, before people wised up and stopped taking the invitations, invite people he admired to come visit him in North Korea and then not let them leave? And his father just looked so [i]nice[/i]. And yet somehow, they were the world's only Communist monarchist theocracy, based on the worship of Kim Il-sung as the Sun God. (Technically, he's not officially dead yet; he's Eternal President of North Korea.) It's a horrible totalitarian dictatorship, but because we know so little about it, it's easy to make fun of it. All we see is the laughable figurehead--and we've already started making fun of Kim Jong-un's weight. Though I suppose "big bones" isn't enough of an explanation given how much of the country is starving to death. It's just that I don't think we think about that aspect of things at all, and we should.
Edith Nelson
Discussion Forum
Discuss Kimjongilia on our Movie forum!
News & Features