Kind Lady
(1951)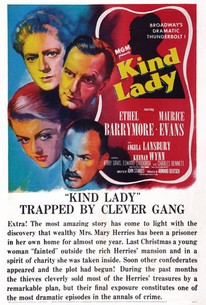 AUDIENCE SCORE
Critic Consensus: No consensus yet.
Movie Info
This film tells the harrowing story of a kindly old British woman with a love of art. The woman is tricked into allowing an artist, his wife, and another couple into staying in her house. They then begin holding her prisoner in her home while they ransack her art collection.
Rating:
NR
Genre:
, ,
Directed By:
Written By:
In Theaters:
Runtime:
Studio:
MGM
Audience Reviews for Kind Lady
Atmospheric, disturbing drama with excellent actors giving terrific performances. Ethel holds the screen with a sure command even when she's being menaced.
A period home invasion thriller with Ethel Barrymore as a wealthy art patron who is taken captive by a creepy Maurice Evans (Samantha's father on Bewitched and Dr Zaius!) with the help of Angela Lansbury serving up full cockney realness. A bit tepid by the standards of even films made within the next decade.
Curtis Jensen
½
You ever find yourself watching a film and imagining how you would do things differently if you were the main character in that film? Or ever come to hate the bad guy(s) in a film so much you can feel it in the pit of your stomach? You could just STRANGLE CHOKE WHATEVER him/her/them!?!? Yep…KIND LADY is that kind of film. It's one of director John Sturges' (THE GREAT ESCAPE, THE MAGNIFICENT SEVEN) earlier efforts and it works quite well as a thriller…an enjoyably manipulative one too. The cast is very good and will have you sympathizing with the victims and cursing the bad guys. The film is compelling enough to hold your attention and to keep you wondering what is going to happen next. Christmastime. Turn-of-the century London. Miss Mary Herries (Ethel Barrymore) is a wealthy spinster who lives in a lavish apartment with her maid, Rose (Doris Lloyd) and her cook, Dora (Phyllis Morris). Miss Mary is a patron of the arts and owns paintings by Rembrandt and El Greco as part of her personal collection. Miss Mary becomes acquainted with a struggling artist who comes knocking at her door (inquiring about the ornate renaissance-era knocker that adorns her front door). The artist - Henry Elcott (Maurice Evans) seems a personable and pleasant enough fellow. Miss Mary soon learns Elcott lives in a cold, run down flat with his sickly wife, Ada (Betsy Blair) and their infant child. Hoping to help the couple…Miss Mary buys some of Elcott's paintings. When Elcott and Ada attempt to deliver the paintings to Miss Mary - Ada is stricken ill and faints just outside Miss Mary's apartment. A passing doctor examines Ada and orders bed-rest. The kindly Miss Mary offers the use of an extra bedroom for the purpose. But this gesture of charity soon turns into a nightmare for Miss Mary as she realizes that Elcott is gradually and deliberately taking over her household. When Elcott's "friends" arrive - Mr. Edwards (Keenan Wynn) and Mrs. Edwards (Angela Landsbury) - and appoint themselves as the new butler and maid…Miss Mary, to her horror, realizes she has become a prisoner in her own home! ARRRGH! KIND LADY predates similarly themed flicks such as Bogart's THE DESPERATE HOURS (1955) and David Fincher's PANIC ROOM (2002)...so if you enjoyed those flicks - KIND LADY may be your cup of tea. I haven't seen very many Maurice Evans films. I only remember him playing the kindly scientist ape, Dr. Zaius in the original PLANET OF THE APES. But Evans is very good here as the con man Elcott. A sinister wolf in sheep's clothing. Very good too is the veteran actress, Ethel Barrymore as the elderly, but defiant spinster - Miss Mary. KIND LADY is a remake of the 1935 flick of the same name. That one starred Aline McMahon and Basil Rathbone. I'm going to have to check that one out too. I say pop some popcorn…and enjoy!!! 7.5
bernard anselmo
Kind Lady Quotes
There are no approved quotes yet for this movie.