Kindergarten Cop
(1990)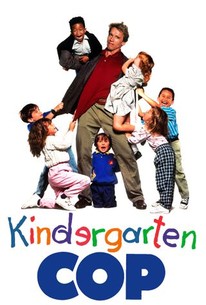 Movie Info
Arnold Schwarzenegger sheds his action image in Ivan Reitman's police comedy Kindergarten Cop, where he plays an undercover cop teaching a class of hyperactive six-year-olds. As the film begins, John Kimble (Schwarzenegger) and his partner Phoebe O'Hara (Pamela Reed) are in pursuit of notorious drug dealer Cullen Crisp (Richard Tyson) and his scabrous mother Eleanor (Carroll Baker). John learns Cullen is searching for his ex-wife and his little boy, and Kimble plans to nail them when they find the former wife, who is believed to have $3 million of Cullen's drug profits. John and Phoebe follow the trail to Astoria, Oregon, where they believe Cullen's son is attending kindergarten. Although the child and his mother have changed names, John hopes they can pick up some clues. By coincidence, Phoebe used to be a schoolteacher and the school board permits her teach the kindergarten class, but Phoebe gets food poisoning and John is forced to teach the six-year-old whippersnappers himself. Along with lighthearted gags with the kids and the pursuit of the drug dealers, John has time for a little romance when he falls in love with one of the teachers (Penelope Ann Miller), who ends up surprising him with more than love. ~ Paul Brenner, Rovi
Rating:
PG-13 (adult situations/language, violence)
Genre:
, , ,
Directed By:
Written By:
In Theaters:
On DVD:
Runtime:
Studio:
MCA Universal Home Video
News & Interviews for Kindergarten Cop
Critic Reviews for Kindergarten Cop
Audience Reviews for Kindergarten Cop
Do I dare to say, Schwarzenegger's best acting work.
Graham Jones
Super Reviewer
½
Ten reasons why I love Kindergarten Cop: 1. The way this movie introduces John Kimble is one of the best Arnold introductions ever! 2. Thug: "Who are you?" Arnold: "I'm the party pooper." *shotgun blast* 3. "It's not a tumor!" 4. "We're going to play a game. It's called 'Who Is Your Daddy, And What Does He Do?" 5. "Shuuuuuut uuuuuuuuuppp!" 6. "Take the toy back to the carpet. Take it back!" 7. "THERE IS NO BATHROOM!" 8. "My name is John Kimble. And I like my car." *cocks shotgun* 9. Penelope Ann Miller is gorgeous and oddly enough, she shares great chemistry with Arnold. 10. This is just a nice, sweet movie with a lot of heart....and Arnold kicking ass. I don't see what's not to like. I have a soft spot for Arnold movies. I admit it. I love them, despite how bad they are. I'm impervious to that reality. In other words, you could give me one hundred reasons why he's the worst actor in the world and why Kindergarten Cop sucks, and it won't change my mind one bit. Nobody entertains me the way Arnold does.
Edward Boxler
Super Reviewer
One of Arnolds funniest films of all time
Michael Edwards
Super Reviewer
Kindergarten Cop Quotes
| | |
| --- | --- |
| John Kimble: | I'm a cop you idiot ! I'm detective John Kimble ! |
| John Kimble: | I'm a cop you idiot! I'm detective John Kimble! |
| | |
| --- | --- |
| John Kimble: | Who is your daddy and what does he do? |
| | |
| --- | --- |
| John Kimble: | Thanks for the tip. |
| | |
| --- | --- |
| John Kimble: | I'm going to ask a bunch of questions, and I want to have them answered immediately. |
| John Kimble: | I'm going to ask a bunch of questions and I want to have them answered immediately. |