King
(2006)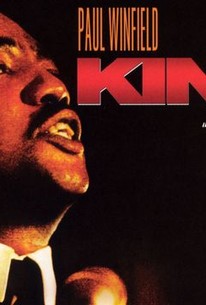 AUDIENCE SCORE
Critic Consensus: No consensus yet.
Movie Info
This film originated as a three-part miniseries. Paul Winfield stars as Martin Luther King, Jr., with Cicely Tyson as Coretta Scott King. The film covers the years 1954 through 1968, taking Rev. King from his first peaceful protests against segregation in Montgomery to his murder in Memphis.
Critic Reviews for King
There are no critic reviews yet for King. Keep checking Rotten Tomatoes for updates!
Audience Reviews for King
The King is a surprisingly moving film. Although the story had a few heavily questionable believability issues, overall it was an interesting, engaging, and unpredictable film. Gael Garcia Bernal is one of my favorite actors. I think he has incredible talent and one of the brightest futures of any young actor. However, this performance was not one of my favorites. He was good, but he was flat. It seemed like most of his intensity was shown through his facial expressions. Beyond that, he seemed to drudge through the majority of his role. This could have to do with the way his character was written, it could have to do with a lack of good directing. At any rate, he's good but not great, similar to the film. William Hurt, on the other hand, probably because of his role, was actually pretty good. He plays a devout preacher with many "holier than thou" character defects. However, Hurt's character is a bit too one-dimensional. There is some change, some rounded quality to his person, but his change is a bit unconvincing due to the believability issues of the plot. Overall, I enjoyed The King more than the status quo. This could have to do with my crush on Gael Garcia Bernal, but I think it has more to do with the surprises which somehow mostly worked. However, I feel that surprises in a story need to also contain an element of inevitability, but The King does not always succeed on this level. Some of the unconvincing elements of the plot did not seem to mesh with the rest of the piece. I felt like the plot wanted to move in directions the characters did not. Despite this, I was riveted and moved. The film is highly original in many ways, and it ought to be commended for that. I really loved the last scene of this film. It is quite disturbing, and it left me strangely satisfied. This is definitely not a film for everyone, but I strongly believe there is an appreciative audience out there somewhere for this film. I hope they find it.
Ross Wilcox
½
TAKEN FROM: TOMMYGUNTHEBABY.BLOGSPOT.COM The King is a revenge film. I usually like revenge films, the best one being Oldboy. If you haven't seen Oldboy then first you are out of your mind but second it's a fukin MUST see. One of my favorites and everyone i know that has seen it has loved it. Enough about Oldboy though. A lot of this movie is based on suprises so i am not going to ruin it for you but i will tell you a few things about it. The King begins with a young man going to meet his long lost father who is a pastor at an evangelical church. No one knows about this guy because the Pastor keeps it a secret all these years. After they meet up peoples lives slowly start to deteriorate until eventually all hell breaks loose. It is very William Shakespear like and if you enjoy Shakespear i garuntee you will enjoy this movie. William Hurt plays the pastor while Paul Dano plays his religious son. You may remember Dano from "Their will be blood" in which he played another crazy religious character. He is very good at it. This movie slowly disturbs until the end, which is fantastic. Check it out.
Troy Lightfoot
½
Very well written drama and very original. The cast is excellent, especially Laura Harring. Gael Garcia Bernal heads the cast in another excellent and memorable performance. Paul Dana and William Hurt round out the cast with fine performances. The film has a fascinating quality about it.
James Higgins
King Quotes
There are no approved quotes yet for this movie.
Discussion Forum
Discuss King on our Movie forum!