King Cobra
(2001)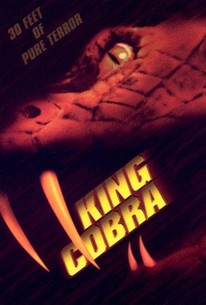 AUDIENCE SCORE
Critic Consensus: No consensus yet.
Movie Info
What happens when you cross an African King Cobra with an Eastern Diamondback Rattlesnake? You get one extremely large and ill-tempered reptile, and he's on the loose in the horror opus King Cobra. Dr. Irwin Burns (Joseph Ruskin) is developing an experimental drug that will increase aggression in humans and animals, so he breeds the perfect animal to test it on -- "Seth," a cobra/rattlesnake mix that's more intelligent than the average snake, much larger (30 feet long) and a good bit more dangerous. When an explosion destroys Burns' lab, Seth slithers off to freedom, and two years later he pops up in the small town of Fillmore. When several citizens are attacked by a large snake with unusually potent venom, local doctor Brad Kagen (Scott Brandon) and Police Chief Jo Biddle (Kasey Fallo) (who happen to be romantically involved) urge the mayor (Hoyt Axton) to cancel the city's annual beer festival. The festival brings in too many tourist dollars for the mayor to consider shutting it down, so Brad and Jo have to quickly capture the mutant snake before it can kill again. Fortunately, they have the help of Nick Hashimoto (Pat Morita), a snake expert who's been bitten so many times he has venom antibodies in his blood. King Cobra features special effects by the Chiodo Brothers, who previously created creatures for Teenage Mutant Ninja Turtles and Killer Klowns From Outer Space, and boasts a cameo appearance by Erik Estrada as a flamboyantly gay beer marketing expert.
Critic Reviews for King Cobra
There are no critic reviews yet for King Cobra. Keep checking Rotten Tomatoes for updates!
Audience Reviews for King Cobra
An old-fashioned B-movie creature feature. Has neither an impressive plot nor impressive actors, but if you're looking into it with no real expectations for a great film, it shouldn't have to.
Hayden Bethea
½
Synopsis: Scientists create a snake that's half African king cobra and half Eastern diamondback. Unfortunately, it has a horrible disposition and a blood thirst to match. Now, the 30-foot long mutant has escaped, and it's stalking a small town. Ever wonder what "Jaws" could have been like if a less talented director was behind the project. If the studio backing the film did not provide the comparatively ridiculous amounts of funding and just left the film to die. Ever wonder how much less intriguing the film would have been without all those good actors? Well, King Cobra may be the film for you. From the first person point of view, to the score, even down to the actually plot itself; King Cobra draws heavily from histories first summer blockbuster, almost to the point of copying. With the picture drawing so much from Jaws, it's easy to see just how great that movie truly is; everything here feels amateurish at best in comparison. The film does have some interesting aspects. The titular snake for example is not CGI, it's good ol fashion puppetry, which isn't particularly believable but is a nice little treat, especially when you consider the boring alternative of a snake made from 1's and 0's. Secondly, Pat Morita best known as Mr. Miyagi, plays a major role in this picture, and although his acting is nothing special here, his is clearly the high point of the cast. It has it's moments, but it's derivative nature ensure this one won't appeal to anyone other than those unusually interested in cheap B movies.
aaron aaron
The monster snake is actually a Cobra-Rattlesnake creation, the result of genetic tinkering that escapes a lab and causes problems for a small town with a fledgling brewery that could spell an economic turnaround, if it's opening day "Brewfest" is a success. The residents call in snake-expert Pat Morita ("Karate Kid" movies) who tries to execute a plan that will catch the mutated King Cobra with the help of Doctor Scott Hillenbrand and female deputy Casey Fallo. Note to self: A beer festival is way too important to worry about the lives of innocent civilians. Is Eric Strada as a gay man organizing the brew-fest supposed to be funny?
King Cobra Quotes
There are no approved quotes yet for this movie.
Discussion Forum
Discuss King Cobra on our Movie forum!