King David
(1985)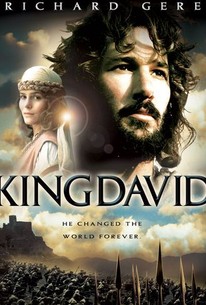 Movie Info
Bruce Beresford directed this adaptation of the story of David (played as an adult by Richard Gere), the Biblical hero who killed Goliath to become the second monarch of Israel.
Critic Reviews for King David
Audience Reviews for King David
This film had its moments. David killing Goliath was fun to watch, Absalom getting caught in the tree was a nice chase scene, and David seeing Bathsheba for the first time was moving (yes there is nudity, but it is tasteful). There were half dozen, or so, other scenes that were interesting to watch as stand alone moments. That being said, the film as a whole was disappointing. The plot was hurried and difficult to follow, the dialogue was mediocre, and there was insufficient character development.
Cynthia S.
Super Reviewer
½
This is an attempt to tell the Biblical story of King David. They do a good job of showing the culture of the ancient Israelites but Hollywood seems to think they can be as fast and lose with Bible stories as they are with any other book. This movie isn't as bad as some of the movies made in the 1950's based on Bible stories but they did make a few changes. In the Bible it is told that David committed fornication with Bathsheba but in the movie it's covered up. Then they throw in a couple of nude scenes and should have had an R rating. It got a PG-13. The battle scenes are OK. I'm not sure they got the bronze age weapons correct. King David brought the secret of iron from the Philistines to the Israelites. This isn't shown in the movie but it is in the Bible. I've got this movie on Laserdisc. After watching this movie read the Old Testament. David is one of the major characters of the Bible. Everyone should read and know the story of David.
Donald White
I remember seeing this in my teens. it's bible, but also down to earth. human flaws still reclaiming faith.
horus shine
King David Quotes
There are no approved quotes yet for this movie.
Discussion Forum
Discuss King David on our Movie forum!