Mo jong yuen So Hat-Yi (King of Beggars)
(1992)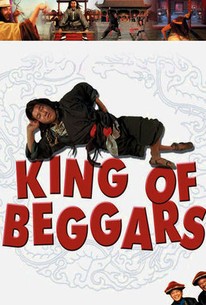 AUDIENCE SCORE
Critic Consensus: No consensus yet.
Movie Info
The spoilt son of a millionaire finds the love of his life, but she will only accept him if he proves himself as a kung-fu master. He enters and wins the "Kung-Fu Scholar" tournament, little realizing that this victory will lead to him becoming penniless, homeless and sleepy. One day, while sleeping under a tree, he encounters a beggar he helped when he was still rich...
Rating:
PG-13
Genre:
, , ,
Directed By:
Written By:
In Theaters:
On DVD:
Runtime:
Studio:
Miramax
Critic Reviews for Mo jong yuen So Hat-Yi (King of Beggars)
There are no critic reviews yet for Mo jong yuen So Hat-Yi (King of Beggars). Keep checking Rotten Tomatoes for updates!
Audience Reviews for Mo jong yuen So Hat-Yi (King of Beggars)
½
This movie unfortunately felt a lot longer than it actually was. Cheesy, with a brute-forced clichéd Chinese-kung-fu-plot and TV show-grade special effects like plasticky exploding rocks and really just lots of explosions where explosions did not belong. Did not age well but at least there were a few laughs.
Letitia Lew
Super Reviewer
Prepare the unicorn smoke! A rich debutant meets the love of his life shortly after a bar fight. She wants him to learn martial arts and enter a fight tournament; surprisingly, he wins the tournament despite fighting a local legend. Unfortunately, part of winning leads to him losing his social status, all his money, and maybe the girl. The beggar joins a new group and attempts to bring down a ruthless overload who is fighting his way to power. "I will support you, including money for hookers." Gordon Chan, director of Kung Fu Master, Painted Skin, Fist of Legend, 18 Golden Destroyers, The King of Fighters, and Mr. 3 Minutes, delivers The King of Beggars. The storyline for this picture had a lot of potential and fit perfectly into the genre. The comedic content was a bit overdone and the martial arts was just okay. The acting was average for the genre and the cast includes Stephen Chow, Sharla Cheung, Norman Chu, Wai Lam, and Wai Yee Chan. "Your stance is strong, but you look awful." King of Beggars is a movie I grabbed and was hoping it would be on par with Drunken Master; unfortunately, this was a dramatic drop-off from what I expected. This is an above average martial arts picture with some great lines but wasn't as good as I had hoped. I recommend seeing this only if you're a diehard fan of the genre. "Beggars are people too!" Grade: C+
Kevin Robbins
When it comes to comedy movie I'm usually a little more cautious picking out what i'm going to watch because the movie might not be funny and it's a bad experience watching a humorless comedy. Luckily I made a good choice finding this hidden gem in the Martial Art comedy genre. King of Beggars is about a spoilt son of a millionaire who finds the love of his life, but she will only accept him if he proves himself as a kung-fu master. The story as a whole is just something you just sit back and enjoy. Stephen Chow knows good humor as I couldn't stop myself from laughing at this movie. It's a blast to watch, which can't be said about about the characters. The story delivers fully in comedy, but when it comes to the more serious scenes there not as meaningful as they could have been and I found myself not caring about the characters when they weren't making me laugh. The Martial Art on the other hand is at the level of Jackie Chan, but in a more humorous style. This adds to the humor as we see Stephen Chow fighting at a Kung Fu Tournament and his equipment keeps breaking or the scene where he fights someone while he sleeping are unlike anything you ever seen in a Martial Art movie. The cast are fitted perfectly in this movie, they always deliver good jokes and the characters the play give them a certain appeal you could only find in a good comedy. I found it to be a shame that this movie went under so many people radar as Once Upon A Time In China 2 and Supercop came out in the same year. With so many Martial Art movies taking themselves seriously, this is one Martial Art movie that doesn't and you'll have a good time watching it.
Caesar Mendez
Super Reviewer
Mo jong yuen So Hat-Yi (King of Beggars) Quotes
There are no approved quotes yet for this movie.