King of Texas
(2002)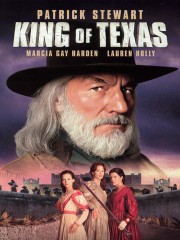 Movie Info
Shakespeare's tragedy +King Lear is transplanted to 19th century Texas in this made-for-cable drama. Patrick Stewart stars as John Lear, the wealthiest and most powerful rancher in the territory. Failing in body and mind, Lear decides to divide his vast property among his three daughters -- Suzannah (Marcia Gay Harden), Rebecca (Lauren Holly), and Claudia (Julie Cox) -- giving the most land to the girl who most persuasively professes her love and loyalty. While her mercenary sisters fawn all over John, the headstrong Claudia refuses to feed false compliments to her father, and as a result, she is banished from his ranch. But when Lear's spread is threatened by usurpers and landgrabbers, the enfeebled patriarch realizes that Claudia is the only one of his offspring truly worthy of his affection. All of the Shakespearean highlights are intact, albeit retranslated within the genre expectations of the Western. For example, Lear's blinding is done with a branding iron. An uneasy mixture of British theatricality and John Ford-like cinematic spectacle, King of Texas (filmed in Mexico despite its title) originally aired June 2, 2002, on the TNT cable network.
more
Flying Freehold Productions
Cast
News & Interviews for King of Texas
Critic Reviews for King of Texas
Audience Reviews for King of Texas
Better Than It Ought to Be

I think a lesson that needs learning is that, while the plots of Shakespeare are generally universal, that doesn't mean they need to be portrayed in every possible version. The mad king and his three daughters? If you don't make him a king, just a wealthy and powerful man, you can slip that family in just about anywhere. The scions of two rival families who fall in love despite their families? That one is even easier. Heck, the comedies are mostly just silly people falling in love, and that's the most universal of all. However, for every strangely successful [i]The Tempest[/i]-in-outer-space, there's a collapsed [i]Romeo and Juliet[/i]-in-high-school or whatever. (I don't have a specific movie in mind there, but you know what I mean.) This one is just skirting the border--it could have been done better than this, but I'm still not sure it needed to be done at all.

John Lear (Patrick Stewart) owns one of those enormous Texan ranches that's bigger than some countries. He had a son, but his son died; he now lives on his ranch with his youngest daughter, Claudia (Julie Cox). Her sisters, Susannah Tumlinson (Marcia Gay Harden) and Rebecca Highsmith (Lauren Holly), come to the ranch on Texan Independence Day with their husbands (Colm Meaney and Patrick Bergin). Lear tells them that he will divide his ranch among the three, but each girl must earn her portion by telling him how much she loves him. Claudia refuses, and he throws her out. She goes to Menchaca (Steven Bauer), the Mexican rival to their south who owns a piece of land that Lear has always wanted. Mr. Tumlinson goes to Austin on state business, and Susannah proceeds to turn out her father and convince her sister that they need to take the land from Menchaca. Menchaca has taken in Claudia, unbeknownst to the others. Susannah tries to convince their neighbour, Henry Westover (Roy Scheider), to join them, but he refuses. He's also having trouble with his sons.

When I saw that David Alan Grier would be playing the Fool in this, I was concerned. In my head, he's "that guy from [i]In Living Color[/i] who wasn't a Wayans," and that doesn't bode too well. His character, Rip, is a slave who survived the attack on the Alamo; he says he fears nothing after that. He is willing to speak truth to Lear, the only person who does and gets away with it while Lear still has any power. However, that doesn't mean Lear actually listens to him. Rip knows that the elder daughters are up to no good. He knows that Claudia is the only one who cares for the old man. However, Lear doesn't believe him. He believes his daughters' protestations of love, not realizing that Susannah would say anything to get her hands on his land. I think Lear also believes that Rip cares more for him than he does--Rip is a slave, and the Mexicans would have freed him. He's fond of the old man, but he clearly resents that Lear still calls Rip his property even when he thinks he's being kind.

In this version, Susannah is the only daughter who is truly evil. Rebecca is hurt by her father's neglect--it is established that, before he died, their brother was the only one who mattered; after he died, Lear transferred all his affections to Claudia. Rebecca wishes her father had loved her. She is also easily led, first by her husband and sister and then by the bastard Emmett Westover (Matt Letscher). She's not a nice person, either, but she would never have done the kind of things that Susannah did. Her one overtly cruel act--finishing the blinding of Westover--occurs after her husband has been murdered in front of her, after he put out one of the old man's eyes. She tells her father that she does not believe him when he says he'd always loved her best, but be fair--he's lying. Rebecca is too easily swayed by Emmett, too easily enamored of him. However, without Susannah's goading, she might have even remained dutiful to her neglectful father.

We are left with no real sense of Claudia, in the end; yes, she remains true to her father, but until the events of the story, he had apparently treated her best. The most interesting characters so far as I was concerned were Rip and Thomas Westover (Liam Waite). I wanted to know more about both of them--how did Rip end up Lear's slave? Why did Westover find it so easy to believe that Thomas would sell the family's horses and kill a trusted retainer? We only ever see Rip in his master's shadow and Thomas in his father's; I like to think that, after the movie's end, the pair of them got together with Mr. Tumlinson and had a nice, long, spiteful conversation about the dead and how they were all of them betrayed. Thomas remains a dutiful son after her own father's turning him out, because this is a story about filial obligation, but then again, Thomas is the only heir to either property left alive. Did Lear's ranch go to Tumlinson?
Edith Nelson
Does not attain the catharsis of Shakespeare. It uses as its model, but manages to deliver only melodrama.
Discussion Forum
Discuss King of Texas on our Movie forum!
News & Features