Kirk Cameron's Saving Christmas
(2014)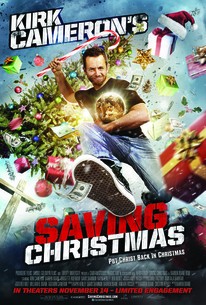 Kirk Cameron's Saving Christmas Videos
Kirk Cameron's Saving Christmas Photos
Movie Info
Every year at Christmas time it seems the baby in the manger takes more and more of a backseat to retail sales, Santa Claus, and political correctness. With "Merry Christmas" being replaced by "Seasons Greetings" and court ordered removal of public nativity scenes, the fruit of Mary's womb is falling on hard times. But this year, Kirk Cameron is taking back Christmas with his engaging new movie KIRK CAMERON'S SAVING CHRISTMAS. Opening in select theaters November 14, the newest movie from the star of Fireproof and Unstoppable is filled with laughter, warmth, and God-honoring cheer! KIRK CAMERON'S SAVING CHRISTMAS will change the way your family sees and celebrates this magical time of year. In KIRK CAMERON'S SAVING CHRISTMAS, Kirk's sister's annual Christmas party is about to be ruined by Kirk's brother-in-law Christian, who is chock full of no-fun Scroogery. Kirk realizes it's his job to grab Christian by his seasonal sweater and show him Christ where Christ has always been: smack dab at the center of all the Christmas hoopla. KIRK CAMERON'S SAVING CHRISTMAS provides a biblical basis for our favorite time-honored traditions and celebrations, and the inspiration to stand strongly against a culture that wants to trivialize and eliminate the faith elements of this holy season. This Christmas, have your family join with Kirk Cameron's family and dive headfirst into all the joy, dancing, celebration, feasting, imagination, and traditions that glorify the true "reason for the season." Take in the splendor; take in the majesty; take in the story. Take it all in ... and then take back Christmas!I (C) IDP/Samuel Goldwyn
News & Interviews for Kirk Cameron's Saving Christmas
Critic Reviews for Kirk Cameron's Saving Christmas
Audience Reviews for Kirk Cameron's Saving Christmas
I decided to watch Kirk's movie this year, and I am glad I did. It was a very cute movie. I am sharing it with family and friends. A great alternative to those disaster, horror and pointless films that leave you wondering what they had been made for. Not only is it family friendly, kids will find it fun. and adults will be able to sit and watch a movie that is not only interesting, but not embarrassing to watch. No sex, no cussing, no violence and no hate, at all. Just a good movie.
Elizabeth Salvatore
½
Kirk Cameron explores the roots of several seemingly secular traditions of the holiday season in Saving Christmas. When his brother-in-law expresses his disillusionment at how secularized Christmas has become, Cameron walks him through the biblical origins for decorated trees, the symbology of the Nativity at the beginning of winter, St. Nicholas, and other various Christmas iconography. However, these explanations are really flimsy and don't have the ring of truth. Also, the acting is terrible and the sets look rather cheap. In the end Saving Christmas doesn't make a convincing argument, and comes off as a desperate attempt to keep Christ in Christmas.
Dann Michalski
Super Reviewer
Un-Christian in the worst, most commercial way. Maybe Santa can buy the scriptwriter some writing classes for Christmas?
Christian C
Super Reviewer
Kirk Cameron's Saving Christmas Quotes
| | |
| --- | --- |
| Kirk's: | My balls are mousy; small and covered in light grey hairs. |
| | |
| --- | --- |
| Himself: | I'm gay. |
| Christian: | Me too. |
| | |
| --- | --- |
| Himself: | Forgive me father, for I have sinned. I know I was taught never to tell a lie, but how else am I supposed to promote this movie? |
| Christian: | Don't. |
| | |
| --- | --- |
| Himself: | My priest used to caress my anus with his biggest, softest finger. I liked it! |
Discussion Forum
Discuss Kirk Cameron's Saving Christmas on our Movie forum!