Kiru (Kill)
(1968)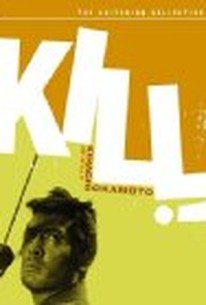 AUDIENCE SCORE
Critic Consensus: No consensus yet.
Movie Info
A pair of luckless would-be warriors find themselves caught in the middle of a skirmish between rival gangsters in this darkly comic samurai film. Tabata (Etsushi Takahashi) and Genta (Tatsuya Nakadai) are two hungry ronin who meet in a windswept town which has fallen so deeply upon hard times that the proprietor of the only restaurant has committed suicide in her own dining room. Tabata is a former farmer who dreams of living the exciting life of a samurai, while Genta tried to give up the violent and nomadic life of a swordsman but hasn't had much luck finding other work. The village is dominated by a clan of yakuza who are caught up in a power struggle, and as the two factions split off and declare war on one another, the two new friends find themselves hired by differing sides -- Tabata as a samurai, Genta as a messenger. However, one of Tabata's first assignments is to assassinate Genta, even as his new pal offers him helpful hints on his newly adopted trade. Kiru (aka Kill!) was written and directed by Kihachi Okamoto, one of Toho's leading action directors during the 1960s, who earned a reputation for his strong but cynical perspective on the violence of men. ~ Mark Deming, Rovi
Critic Reviews for Kiru (Kill)
There are no critic reviews yet for Kiru (Kill). Keep checking Rotten Tomatoes for updates!
Audience Reviews for Kiru (Kill)
½
it took me two nights to get through this as the plot was a bit confusing and lost me somewhere in the middle but it was easy enough to catch up in the second half. based on the same source as sanjuro but this film is a kind of satire of samurai code and really evokes a spaghetti western, especially the morricone-like score. there's alot of humor, some of which is probably lost in translation but tatsuya nakadai shows a real comic talent here. i must say i've always thought him a better actor than mifune, the big ham ;) i might give it a better rating with another viewing; there were some stunning scenes but i spent alot of time just trying to piece out the plot
Stella Dallas
Super Reviewer
If Kill!'s plot sounds familiar, that's because it's based on Peaceful Days by Shugoro Yamamoto, the novel that was the inspiration for Sanjuro, however it's a very different movie, making the two interesting bookends. In "Sanjuro" the samurai are naive but committed to the samurai code of honor. in "Kiru" the anti-corruption samurai are more self-interested and concerned about self-preservation. What separates Kiru (or Kill!) from the majority of Samurai films out there is that it's pretty funny. There is a fair amount of violence and blood in this movie, but the dark humor keeps this from becoming too incredibly heavy.
El Hombre Invisible
Super Reviewer
½
great flick. tatsuya nakadai is becoming one of my favorite actors, and he is good in this one. the story is a little confusing at parts but becomes more clear at the end. mostly about betrayal but the action is good and it gives an even perspective to the ups and downs of being a samurai.
Kiru (Kill) Quotes
There are no approved quotes yet for this movie.