Kiss of the Tarantula
(1976)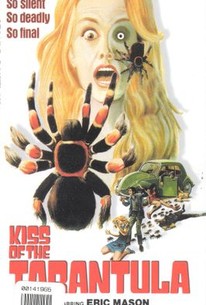 AUDIENCE SCORE
Critic Consensus: No consensus yet.
Kiss of the Tarantula Videos
Kiss of the Tarantula Photos
Movie Info
An ostracized teen (Suzanne Ling) gains revenge on her tormentors with the help of her murderous pet tarantulas.
Rating:
PG
Genre:
,
Directed By:
Written By:
In Theaters:
On DVD:
Runtime:
Studio:
Critic Reviews for Kiss of the Tarantula
All Critics (2) | Fresh (0) | Rotten (2)
A starchy little combination between Carrie and any ol' "spiders run wild!" critter flick.


Audience Reviews for Kiss of the Tarantula
This appeared as the flip-side of a double feature with the movie Ruby, and I have to say that it definitely wins out as far as being a more fun film, just because it's much more ridiculous and over the top than the Ruby film was, with a bunch of 20 and 30-somethings posing as high schoolers who torment the 'weird girl', who then unleashes her spider friends on them for revenge. It's silly as hell, but still amusing. Rental.
Bill Bryant
½
Kiss of the Tarantula (Chris Munger, 1976) I'm not quite sure how to review this incoherent mess of a movie, since most of what I was thinking while watching it had to do with speculation about the altered states of everyone involved with this movie-from the writers of the spec to the distributors who actually released it. ("Actually" as in "you actually sent this to a movie theater and expected them to show it?".) I certainly couldn't concentrate on the plot, which pops in and says hello every once in a while before going back to cower in its hole. Or the acting (only one cast member, Scream, Blacula, Scream!'s Eric Mason, had a career in Hollywood after this movie; he never worked in features again, only television). Or the direction. Or anything else, really. I don't think I've ever described a movie as "goofy" before, but I can't think of another term that fits here. The plot concerns Susan Bradley (Suzanna Ling), a disturbed teenager who really, really likes spiders. It's your basic revenge drama (think I Spit on Your Grave, or perhaps more on point Willard), teen thugs break into her house and kill one of her spiders, and she sets the others on them. But it's structured almost like a porn film-once we get to the revenge bit, there are long, drawn-out episodes that have very little scene-building before we get down to business. Except in this case, the business has not to do with naked bodies but crawling spiders. To be fair, I have seen worse movies over the past week, but that doesn't mean it's worth your time. Bloody awful. * 1/2
Robert Beveridge
At the end she wraps The Guy plastic so he suffocates and she closes the lid of a 20 gauge casket upon him so he dies a horrible death. . . . we had the same type of casket in our family funeral home and I LOVED this movie because I related to it . . . come-on I was 6 years old when I saw it.
Gordon Terry
Kiss of the Tarantula Quotes
There are no approved quotes yet for this movie.