KISS Meets the Phantom
(1978)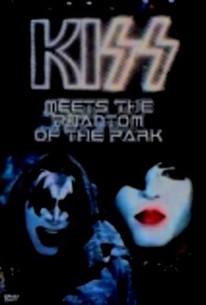 AUDIENCE SCORE
Critic Consensus: No consensus yet.
Movie Info
In this made-for-TV feature, a deranged scientist attempts to replace the four members of the rock group KISS--Paul Stanley, Gene Simmons, Ace Frehley and Peter Criss -- with evil robot replicas in order to destroy the band's career.
Critic Reviews for KISS Meets the Phantom
There are no critic reviews yet for KISS Meets the Phantom. Keep checking Rotten Tomatoes for updates!
Audience Reviews for KISS Meets the Phantom
If there was ever a movie that defined guilty pleasure it would be this one. The plot here is a amusement park has invited KISS for a series of concerts. However, the mastermind behind creating the park is a loopy guy (Anthony Zerbe--who made a career out of playing evil and slimy villains) and he hates KISS--though you are never exactly sure why. But, because Zerbe does not control the park, he is forced to spend most of his time living underneath the park--perfecting his weird audio-animatronic creations (similar to Disney's but even more evil). But, when Zerbe is fired, he vows revenge and unleashes his army of robot zombies!! Egad! Can anyone help? Is there any hope? Well, sure...as it turns out that KISS is actually made up of superheroes who make the X-Men look like losers. The Star Child (Paul Stanley) can shoot lasers out of his eyes and sing well. The Demon (Gene Simmons) can growl like a lion, shoot fire out of his mouth and sing...not so well (but he makes up for it by singing loudly). The Space Ace (Ace Frehley) can appear and disappear at will (sort of like his career with KISS, actually). And, the Cat...is a guy painted like a cat. So how do they have all these cool powers (that look really cheesy on film, by the way) They have a case with magic talismans which enable them to live many lives, play great tunes (sometimes) and shoot things out of their bodies (I'll say no more). So, Zerbe can't get himself a decent hairdo, but he is able to figure out that his next step is to steal these talismans. Unfortunately, they (like most talismans) are protected by a force field and his robot-zombie can't get them--that is until Zerbe creates a cool ray gun which renders the force field inert (by the way, how did he test this to know that it would work?!). In addition, he has created four exact replicas who will take KISS' place after they are kidnapped. Step one (get the talismans) and step two (kidnap KISS) work out great, but considering that Zerbe did not appear to have a step three it's not surprising that it all fell apart at the end. You'd think step three would be global domination or at least getting some hot chicks, but you never hear or see anything that would indicate there is any plan other than to replace KISS with robots (and, judging by this movie, this might have already been done by some other mad scientist before filming began) What can I say but not only is this movie a guilty pleasure but its so bad its good. To sum up here, its fun for Kiss fans and fans of bad cinema
David Ladd
Super Reviewer
The opening scenes with giant KISS members playing behind the amusement park rides was superb. I remember this being an awesome superhero movie with KISS members having great adventures. When I rewatched as an adult it was lacking in enough fun. It sounds like great campy fun, but KISS is not in enough scenes, damnit! When they do appear, it's awesome beyond belief. Their dialogue is beautiful to the ears. I also remember KISS appearing on a Donnie and Marie Halloween Special.
Lafe Fredbjornson
Super Reviewer
KISS Meets the Phantom Quotes
There are no approved quotes yet for this movie.