Kiss the Bride
(2008)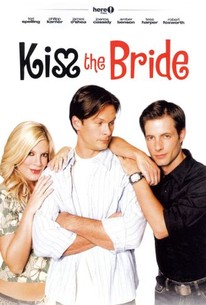 Movie Info
Director C. Jay Cox explores the complex social and sexual landscapes of contemporary America with this heartfelt romantic comedy about a gay male who just discovered that the love of his life is about to tie the knot -- with a woman! Back in high school, Matt (Philipp Karner) and Ryan (James O'Shea ) were more than just best friends. But ten years after graduation, this once-inseparable pair has lost contact. One day, seemingly out of the blue, Matt receives an invitation to Ryan's wedding. Of course, there has been plenty of time for Ryan to develop new relationships in the ten long years since he and Matt last spoke, but the last thing Matt would ever expect is for his former high-school love to fall for a member of the "fairer sex." Convinced that Ryan is about to be taken advantage of by a scheming she-devil, Matt races back to the small hometown he once left behind and prepares to save his true love from a life of marital despair. Upon meeting perky bride-to-be Alex (Tori Spelling), however, Matt slowly begins to understand what it is that Ryan sees in her. Still, Matt can't mess up the opportunity to let the love of his life slip through his fingers, and ultimately decides to come clean about his true feelings for Ryan. Trouble is, Ryan views his romance with Matt as nothing more than a high school fling. As the wedding day draws near and long-buried emotions begin to bubble to the surface, Matt realizes that his feelings for Ryan are stronger than ever before, and his attempts to reconcile the past with the present will ultimately pave the road into an uncertain future.
Rating:
R (for sexual content and language)
Genre:
, ,
Directed By:
Written By:
In Theaters:
On DVD:
Runtime:
Studio:
Critic Reviews for Kiss the Bride
Audience Reviews for Kiss the Bride
Easy plot...Boy finds out his high school ex (boyfriend) is getting married to a female friend of theirs so he goes back to his old hometown (still carrying a 10 year old torch) to see what happened. First off, I liked "Latter Days", the director's last feature, despite its cookie cutter characters and plot contrivances, but you're supposed to become a better director with each subsequent release. I don't know how you get horrible supporting performances out of so many TV veterans (Robert Foxworth, Joanna Cassidy, Tori Spelling), but somehow he managed to. The writing was Lifetime Network quality (way back when they were REALLY bad) and the situations were unbelievable AND uncomfortably hard to watch. I kept reaching for a non-existent remote control to fast forward, but ultimately made myself stay to the end, hoping for a decent ending. Ugh...no. To be fair...the 2 leads, especially in the gratuitous nude scenes, were gorgeous. There was also a real sweetness between them during their rekindling friendship as they uncovered how they went separate ways. And the film looked great...good quality and color saturation for an independent film. This is an oft-used line, but it really sums up this movie..."If this is the current state of gay cinema, then we're in real trouble".
Barbara H.
altho this is a modern gay romantic comedy, it has more depth than many others of the genre; it has sub-plots that explore some deeper questions about sexual identity; committment; attatchment and letting go. Tori Spelling as the bride was surprisingly good; and the two guys were perfectly cast and well acted as small town, former high school buddies. there is no blatant erotics, so this movie could be enjoyed by all audiences (gay or straight).
George DeForest
½
I saw a trailer for this movie on youtube, and just had to watch it. Did not disappoint except for maybe the ending, lol.
Brett Scharf
Kiss the Bride Quotes
There are no approved quotes yet for this movie.