Kite
(2014)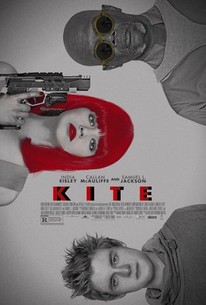 Movie Info
A young woman, Sawa, is orphaned following the murder of her parents and is later taken off the streets by a crooked, Svengali-like detective who employs homeless children to do his dirty work. Trained as a killer, Sawa exacts street justice against the detective's chosen targets until she is able to break free of the abusive, manipulative control he has over her.
News & Interviews for Kite
Audience Reviews for Kite
½
Visually there was some stuff that's right up my alley, but the final product as a whole is just... So bad. The plot was thoroughly underwhelming but it's the technical aspects where "Kite" truly fails. The audio quality is so poor it's virtually non-existent, the acting is horrendous, as every cast member even cannot or chooses not to deliver, and the story was woefully underdeveloped.
½
Adapted from a Japanese anime film, Kite is a provocative and action-packed thriller set in a dystopian future. After her parents are murdered by a flesh-cartel, a young woman named Sawa teams up with her father's former police partner to get her revenge. India Eisley gives a strong performance as a femme fatale, but Samuel L. Jackson pretty much phones it in. Also, the plot is rather rote, with the stereotypical fare; gangs, shoot outs, drugs, dirty cops, etc. Additionally, there are some storytelling issues; with the different story threats not weaving together very well. But even so, the action scenes are dark and gritty, bringing an intensity and edginess to the film. All in all, Kite is a mediocre thriller that says some interesting things about the cost of revenge.
Dann Michalski
Super Reviewer
Kite Quotes
There are no approved quotes yet for this movie.