Knife Fight
(2013)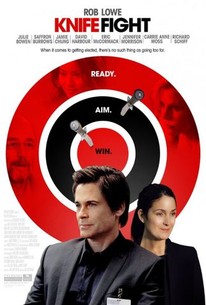 Movie Info
If a political candidate is personally flawed, but stands to make a positive difference in millions of lives, would you help him win? That question looms over the life of "true believer" Paul Turner (Rob Lowe), a savvy strategist sharply maneuvering politicians out of scandal and into public office. With the help of a bright young assistant (Jamie Chung) and a seedy operative (Richard Schiff), Turner spins every news cycle and a shrewd reporter (Julie Bowen) on behalf of his clients: a philandering Kentucky governor (Eric McCormick), a blackmailed California senator (David Harbour), and an idealistic doctor turned gubernatorial candidate (Carrie-Anne Moss). When the ugly side of Turner's work begins to haunt him, he learns that even in the bloodiest of battles, sometimes you have to fight clean. (c) IFC Films
Rating:
R (for language and some sexual content/nudity)
Genre:
,
Directed By:
Written By:
In Theaters:
On DVD:
Runtime:
Studio:
News & Interviews for Knife Fight
Critic Reviews for Knife Fight
Audience Reviews for Knife Fight
½
This is one of those C+/B- kind of movies depending on what you look for in a film. Negatives: The film suffers most from a lack of definition. It's supposed to be somewhat satirical, yet there's no real satire and it seems to be straightforward and in earnest. It's supposed to be political, but honestly it feels like a rom-com without the rom. I honest to god kept expecting that Penelope and Paul would end up together because somehow she'd reawaken his idealism and pull him out of the cynical slump he'd found himself in. But nope. Worst of all, the film never bothered defining which plot was the A-plot. Where is the audience supposed to allot the majority of it's emotional focus? Because the seemingly most "important" plotline (with Penelope) gets far too little time for being the primary arc. In a well defined film, the plotlines with the senator and the governor would've been set into the background and used more to establish Paul's character rather than taking up so much of the movie. The film doesn't even really define who's point of view it's from. We begin the film with voiceover narration from Kerstin (Jamie Chung) telling us all about Paul (Rob Lowe) as if this is her movie. Yet, Paul is our lead protagonist. And we never use the voiceover trick again, so it's just a random four minutes of narration that doesn't fit with the tone of the rest of the movie. There are about five different films in this movie. There's a rom-com (Penelope and Paul), there's a lovely film about a young woman coming out of the closet and breaking stereotypes while working in a political job under a boss like Paul, there's a story about a political "fixer" who goes too far and causes a disaster that makes him rethink everything, there's a witty satire about the ridiculous things that go on behind the scenes during an election, and there's a darker Machiavellian drama about a fixer who will do anything to win because he truly believes he has to. There's not even a well defined sense of what's good and bad, right and wrong in the movie's on moral universe. On one hand, Paul feels terribly guilty about pushing a story that drove a former intern to attempt suicide. On the other, when presented with the knowledge that Kerstin and Dmitris paid a homeless man to wield a knife and put it to the throat of some poor nurse just so Penelope could rush in to save the day (with the cameras catching every second), he's ecstatic about it. Really? We'll get into attempted suicide and hit the audience with the reality of the consequences for the intern, but we're not gonna talk about two campaign staffers (essentially) staging an attack, traumatizing an innocent nurse, and wounding their own candidate for publicity? When you have five different stories vying for dominance in a script that doesn't even put a line between right and wrong, you get a messy movie. Positives: Performances by the cast. The acting carried this movie. Even if the plot and tone were a mess, the actors were compelling to watch. Jamie Chung and Carrie Ann Moss particularly hit it out of the park. Jamie Chung entirely sold me on her character. Enough that I honestly could've made a movie out of just her. Carrie Ann Moss made me forget every other role she's been in. She *was* Penelope and nothing but. I know an actor has done their job right when I finish the film and go, "oh, wait, wasn't she also..." because during that performance, there was nothing else but that character in that movie. Rob Lowe is always watchable on screen. He's good at what he does. He knows how to get chemistry going with other performers around him. However, the ill definition of the script got the better of him. At times, he seemed to slip back into being Sam Seaborn (West Wing) but without all the things that made Sam Seaborn so utterly compelling. Other times, it seemed like he wanted to be a harsher, more ruthless character (like Frank Underwood in House of Cards) but never showed enough teeth to do so. Richard Schiff's part as Dmitris didn't quite convince me. I didn't get any sense of the character. I just saw Richard Schiff putting in an appearance in Rob Lowe's movie. But he's always fun to see on screen and the mini-West Wing reunion was nice in and of itself. I confess to sort of squinting and trying to see a scene with Sam Seaborn talking with Toby Ziegler about political strategy in a restaurant. Eric McCormack's southern accent irritated me the entire film. I'm from that part of the world, thank you. Either do the accent right or don't do it at all. You can have governors that aren't natively from their state (see also: The Governator). That's a tidewater/coastal south accent at best and it's done badly. Overall: It's watchable and entertaining enough. It's better if you don't think about it too hard and just enjoy the actors doing their thing.
Meg Freeman
½
In "Knife Fight," Paul Turner(Rob Lowe) is an expert political fixer based in California. Currently, he has to get Stephen Green(David Harbour), a client and current US Senator, through a sex scandal while being unaware of Kentucky Governor Larry Becker(Eric McCormack), another client, fooling around. That leaves him little time to listen to Dr. Penelope Nelson(Carrie-Anne Moss) who wants to run for governor of California. "Knife Fight" has certain things going for it, including a good cast, especially a charismatic Rob Lowe in the lead and Saffron Burrows who steals whatever brief scenes she is in. And it does make some good points about the way campaigns focus on sex instead of the issues, while admittedly not bringing up anything about campaign financing. Just as Paul lectures Penelope rightfully about politics being a knife fight, he somehow fails to bring up that unless one is really, really privileged, one should not start out one's political career on the state level. That's not to mention the movie failing to adequately juggle its three storylines nor making much sense in the end..
Rob Lowe's performance is the best reason to check out this film. It's been awhile since I have seen Rob in a really good role in a good film. I am happy he is back with this one. The film reminded me of movies like Wag the Dog, Primary Colors, and Swing Vote. The film is predictable but I found it very entertaining. Eric McCormack also does a great supporting job here. So does Carrie Anne Moss, Richard Schiff, and Jamie Chung. I definitely recommend this film.
Knife Fight Quotes
There are no approved quotes yet for this movie.