Knights of Bloodsteel
(2009)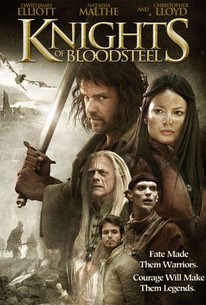 AUDIENCE SCORE
Critic Consensus: No consensus yet.
Knights of Bloodsteel Photos
Movie Info
Syfy's Knights of Bloodsteel is a fantasy adventure miniseries scripted by award-winning writer Sam Egan (the 1990s' The Outer Limits). The sword-and-sorcery epic takes place in the magical kingdom of Mirabilis, which derives its life force from a powerful metal known as bloodsteel. When the bloodsteel begins to run out, wizard Tesselink (Christopher Lloyd) recruits four unlikely knights -- human John Serragoth (David James Elliott), elf Perfidia (Natassia Malthe), goblin Ber-lak (Dru Viergever), and con-man Adric (Christopher Jacot) -- to embark upon a mythic quest to keep what's left of the precious metal from falling into the hands of an evil tyrant named Dragon Eye (Mark Gibbon).
Critic Reviews for Knights of Bloodsteel
There are no critic reviews yet for Knights of Bloodsteel. Keep checking Rotten Tomatoes for updates!
Audience Reviews for Knights of Bloodsteel
As a gamer I can (almost) appreciate the story, no matter how bad it is told, acted, and displayed. This was beyond cliche. The characters are ridiculous parodies stolen from Deathstalker, The Sword and the Sorceror, Lord of the Rings, need I go on? The effects are lame, the plot is just plain stupid, the direction was boring, and the acting was painful. So, why did I keep watching this? Because I am a dork! I hate to admit the number of times while watching this I could imagine players at a table yelling about their roll of the dice and some related skill that tied into the obvious actions or cheesy speeches. However, while a dork...I would have let the GM know what I thought of this assbite of an adventure and never let them run another game! So, I give it marks as a gamer and those are the ONLY redeeming qualities of this tardfest. I knew SCI-FI would go downhill when they forgot how to spell their own name! ACTING = ** STORY = ** PLOT = * EFFECTS = ** OVERALL = ** * = YOU DIDNT EVEN TRY - SUCKTASTIC - HATED IT ** = YOU TRIED, BUT DIDNT QUITE MAKE IT - DIDNT LIKE IT *** = AVERAGE - TOLERATED IT **** = GOOD JOB! YOU REALLY TRIED! - I LIKED IT ***** = YOU ARE FREAKIN' AWESOME! - I LOVED IT
Jhary OConnel
2009 US Director: Philip Spink Score: 6 This wasn't bad. It wasn't necessarily great either. It had a lot of the typical clichés you often find in basic sword and sorcery fantasy productions. Even with that, it had an all right plot that wasn't badly acted. The soundtrack was not a distraction but it didn't come out of the background much to do any assisting either. The SFX are not bad and pretty much at the level I would expect from a made for TV production. All together this not one I would recommend anyone seek out to specifically see it. Nothing in it, in my opinion, is at a level to deserve that kind of interest. However, if you get a chance to catch it when it airs on basic cable, or happen to run across it as a cheep rental and nothing else seems to be interesting, then it is worth a look in that context. Notes: HV Suggested Age: 10+
Todd S
Knights of Bloodsteel Quotes
There are no approved quotes yet for this movie.
Discussion Forum
Discuss Knights of Bloodsteel on our Movie forum!