Knights of the Round Table
(1954)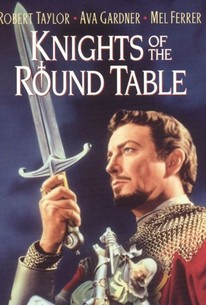 Knights of the Round Table Videos
Knights of the Round Table Photos
Movie Info
MGM's first CinemaScope production was the lavishly appointed Knights of the Round Table. Without overlapping into any copyrighted material (specifically T.H. White's The Once and Future King), the film spins a lucid account of the King Arthur legend. The good king is played by Mel Ferrer, while Queen Guenevere is essayed by Ava Gardner. Arthur's efforts to create a perfect society in Camelot are compromised when Guenevere falls in love with trusted knight Sir Lancelot (Robert Taylor). The ambitious Mordred (Stanley Baker) uses his knowledge of the Queen's indiscretion to destroy both Camelot and King Arthur's round table. Most of the story material in Knights of the Round Table is lifted from Sir Thomas Malory's Le Morte D'Arthur.
Rating:
G
Genre:
, ,
Directed By:
Written By:
In Theaters:
On DVD:
Runtime:
Studio:
Metro-Goldwyn-Mayer (MGM)
Critic Reviews for Knights of the Round Table
Audience Reviews for Knights of the Round Table
Robert Taylor was not loved by the Academy, so for all the classic films I've seen, I think this is the first I've seen starring him. MGM teamed up director Richard Thorpe, producer Pandro S. Berman, composer Miklós Rózsa, cinematographer Freddie Young, and Robert Taylor in the lead, all the same men who made Ivanhoe the previous year, for this Cinemascope film of pomp and drama. This is not based on The Once and Future King novels, but on the older Le Morte D'Arthur by Sir Thomas Malory, the same source that John Steinbeck adapted for his unfinished novel on King Arthur and his noble knights, which I recently read. Arthur establishes his one united kingdom not so much by magic but by political fighting amongst the various factions of many smaller kingdoms. He meets the beautiful Guinevere who also loves Lancelot. Arthur's half sister Morgan Le Fay and her son Modred enact treachery to expose Guinevere and Lancelot's wandering hearts. Despite all this centered around Arthur, Mel Ferrer as Arthur takes a back seat somewhat. The focus is firmly on Sir Lancelot, his heroics and his troubled soul as he fights to control his desire for Guinevere as not to betray Arthur, the king he has sworn to defend and uphold. Robert Taylor's deep voice commands attention, but the sword fights are not very exciting, the writing is mediocre, and MGM's imagined version of what is supposed to be the very early Middle Ages is quite far from the reality of life.
Byron Brubaker
Super Reviewer
½
Your ambitions soar high on such young wings. King Arthur and Lancelot become best friends during Arthur's rise to power. They form the knights of the roundtable and are unmatched. As they begin to seem unbreakable, scandals within the walls of the castle opens a crack enemies will try to exploit. "Who is it?" "Death...awaiting on the stairs." Richard Thorpe, director of Jailhouse Rock, Ivanhoe, Vengeance Valley, The Golden Head, The Prodigal, Killers of Kilimanjaro, Athena, and Carbine Williams, delivers Knights of the Round Table. The storyline for this picture was fun and has some great action scenes. I loved the script as well as the acting. The cast includes Robert Taylor, Ava Gardner, Mel Ferrer, and Stanley Baker. "I thank you for the help I did not need." I came across this on Turner Classic Movies (TCM) and had to DVR it. I generally enjoy movies in this genre and this was fairly well done. This may not be an all time classic, or worth adding to your DVD collection, but it is worth a viewing. "Without you I endure life. With you I rejoice in it." Grade: B-
Kevin Robbins
Lavishly appointed, spinning a lucid account of the Arthurian legend with Robert Taylor leading a solid cast as trusted knight Sir Lancelot, the good king played by Mel Ferrer, with Queen Guenevere essayed by Ava Gardner.
hawk ledge
Super Reviewer
Knights of the Round Table Quotes
There are no approved quotes yet for this movie.