Knights of the South Bronx
(2005)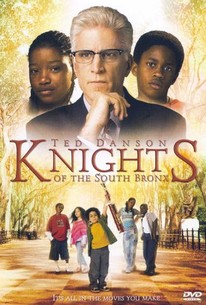 AUDIENCE SCORE
Critic Consensus: No consensus yet.
Movie Info
Inspired by the true-life tale of a dedicated elementary-school teacher who inspired his inner-city students by teaching them the game of chess, Allen Hughes' uplifting made for television feature marks a noted departure from such previous efforts as From Hell and Menace II Society. Richard Mason (Ted Danson) was middle-aged and unemployed when he decided to take up teaching inner-city students, and though most of the kids in his classroom couldn't have cared less about their education in the beginning, something curious happened as time went on. Realizing that he wasn't getting very far with his students through conventional means, Richard realized that he would have to innovate in order to encourage critical thinking among the impressionable youngsters. By breaking the curriculum and instead teaching his pupils the finer points of chess, the man who had once lost all motivation in life suddenly realizes just what a difference one teacher can make if they simply become more attuned to the needs of their students.
Rating:
PG
Genre:
,
Directed By:
Written By:
In Theaters:
On DVD:
Runtime:
Studio:
A&E Television Networks
Critic Reviews for Knights of the South Bronx
All Critics (1) | Fresh (0) | Rotten (1)
Stubbornly refuses to rise above its own genre, sticking so closely to the formula that it winds up earning more snickers than applause.

Audience Reviews for Knights of the South Bronx
A well-executed, inspiring, feel good classroom film. I just love movies like this. A little more than made-for-tvish, but it did my heart good...
Cynthia S.
Super Reviewer
The script's cliche/weak, and lacks the overt drama of better 'teacher' films. Nevertheless, the story of David MacEnulty's nationally successful, baked-from-scratch scholastic chess team within one of the most underprivileged school districts in America is indeed a story well worth telling and viewing. Not surprisingly, the studios balked on this property, shopped for years before finding production under A&E's made-for-television moniker. The sadder, untold ending is MacEnulty was eventually baited away to run chess at Manhattan's prestigious Dalton School. As a once organizer (and player) of scholastic chess, I can attest that the ideas dramatized herein are true enough. Young students WILL find chess fascinating and initially attain significant skill simply through practice. Chess IS a leveler; reasonably smart students lacking resources (such as private coaches) CAN challenge and defeat those who have them. Students ARE mesmerized by the trophies that represent their intellectual achievement. Involvement in scholastic chess DOES positively impact academics: it instills physical and intellectual focus, practices logical/spatial reasoning, teaches that concentration/study and practice is not meaningless work but rather eventually leads to REAL outcomes/improvement. And yes, there is often administrative resistance. Chess pulls no gate, hence financial backing is a major issue, though chess costs far less than most sports. Chess is not status quo curriculum, so it's allotted no time or respect. Advocacy by parents and outsiders is key. Within two years, my own "high-need, urban high school" chess program went from scratch to competitive, running active tournaments, interesting over 100 students, taking some state/national trophies, after which a district-wide program was implemented and a full-time chess master hired. Scholastic chess CAN work wonders for K-12 students; watch this film - and then imagine what it can do for your children and your schools.
TonyPolito Polito
The lackluster effect of this film is a result of uninspired directing. The kids give decent performances but the script and the directing never let it soar. It'll make you feel hopeful but it is far to saccharin. Very little effort was made to reflect the true grittiness of the lives of the children, everything is telegraphed and fits into a sweet little preconceived package. I rolled my eyes far too often at the convenient and sudden change of heart the bad guys show...so TV!
Anna McGuire
Knights of the South Bronx Quotes
There are no approved quotes yet for this movie.