Knuckleball!
(2012)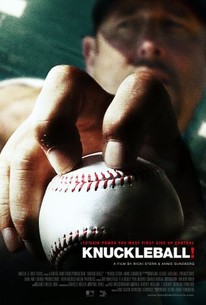 Movie Info
Knuckleball! is the story of a few good men, a handful of pitchers in the entire history of baseball forced to resort to the lowest rung on the credibility ladder in their sport: throwing a ball so slow and unpredictable that no one wants anything to do with it. The film follows the Major League's only knuckleballers in 2011, Boston Red Sox Tim Wakefield and New York Met R.A. Dickey, as they pursue a mercurial art form in a world that values speed, accuracy, and numerical accountability. With extraordinary access from the players and Major League Baseball, the film follows their personal quests with behind-the-scenes moments at the ballpark, on the road, and at home with family. -- (C) Official Site
News & Interviews for Knuckleball!
Critic Reviews for Knuckleball!
Audience Reviews for Knuckleball!
Solid doc, gets the job done, so to speak. Wish it had gone more into why so feel pitchers try being knuckleballers (you'd think all of the washed up minor league pitchers would give it a shot to prolong their careers). This would be a good special for ESPN to air.
Matt Heiser
½
Profile the 2011 seasons of Tim Wakefield and R.A. Dickey, the only two pitchers currently in Major League Baseball who regularly throw the knuckleball pitch. Serendipitously, it turned out to be Wakefield final season after 19 years in baseball, 17 of them with the Boston Red Sox, and one in which he would win his 200th career game (a major milestone) before retiring at the end of the season. R.A. Dickey, at the age of 37 years, would have his breakout year as a major league starter with the New York Mets. He would win the Cy Young Award for the best pitcher in the National League the following season. Filmmakers Annie Sundberg and Ricki Stern made heavy use of game footage from the 2011 season. The film is much stronger when it tells Wakefield and Dickey's respective life stories, charting careers filled with ups and downs, in which the knuckleball saved them from obscurity, then and at times desert them. Dickey's opening-day start in 2011 went awry because he broke a fingernail; Wakefield looked to be washed up after a few good years in Pittsburgh, because he lost confidence in his main pitch. And both men had tough 2011s, with Dickey battling injuries and Wakefield losing six consecutive starts and briefly being relegated to the bullpen out before getting his 200th win. What I like the most, however, was the larger context of the world of the knuckleball pitcher. The filmmakers do a great job of painting these guys are part of an exclusive club. There aren't a lot of knuckleballers, so they have to stick together. This camaraderie makes for some interesting scenes, particularly when Dickey and Wakefield hang out with retired knuckleball pitchers Charlie Hough, Phil Niekro, Wilbur Wood, Jim Bouton, and Tom Candiotti. The movie is good for an inside look at the game, particularly these two men and how the pitch defines them. It's a must for baseball fans. The history is fascinating, the subjects are likable, and there's some genuine emotion in its concluding sections. Mostly enjoyable, you don't have to be a baseball fan to like this movie.
John Tandlich
½
An excellent documentary on knuckleballers and their careers, especially Tim Wakefield and R.A. Dickey. It has a great focus on their lives and families, which is a nice touch. Worth checking out for any fan of baseball.
Stephen Skudlarek
Super Reviewer
Knuckleball! Quotes
There are no approved quotes yet for this movie.
Discussion Forum
Discuss Knuckleball! on our Movie forum!