Koch
(2013)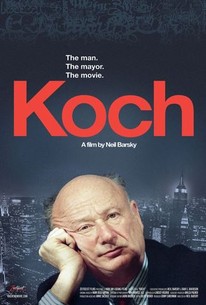 Movie Info
Former Mayor Ed Koch is the quintessential New Yorker. Still ferocious, charismatic, and hilariously blunt, the now 87-year-old Koch ruled New York from 1978 to 1989-a down-and-dirty decade of grit, graffiti, near-bankruptcy and rampant crime. First-time filmmaker (and former Wall Street Journal reporter) Neil Barsky has crafted an intimate and revealing portrait of this intensely private man, his legacy as a political titan, and the town he helped transform. The tumult of his three terms included a fiercely competitive 1977 election; an infamous 1980 transit strike; the burgeoning AIDS epidemic; landmark housing renewal initiatives; and an irreparable municipal corruption scandal. Through candid interviews and rare archival footage, Koch thrillingly chronicles the personal and political toll of running the world's most wondrous city in a time of upheaval and reinvention. (c) Zeitgeist Films
Rating:
NR
Genre:
,
Directed By:
In Theaters:
On DVD:
Box Office:
$342,212.00
Runtime:
Studio:
Audience Reviews for Koch
½
"Koch" is an informative documentary about Edward I. Koch(1924-2013), the mayor of New York City from 1977 to 1989. He started by saving the city from bankruptcy while starting a troublesome trend of making the city more welcome to tourists and suburbanites than its own people. Throughout, his outsized personality proved perfect for the city's tabloids, as his politics became more conservative than those when he was a congressman representing just Greenwich Village.(By contrast, Kirsten Gillibrand's politics are much more liberal now that she is representing New York State as a Senator.) But his working both ends against the middle would eventually politically doom him.(If you want to see what New York City looked like in 1989, watch "Do the Right Thing.) The biggest failure of his time in office was not doing enough during the AIDS crisis, with the Gay Men's Health Crisis picking up the slack in handling services that the city should have provided. As far as Koch's sexuality(or lack of) goes, I agree in an absolute sense of privacy but since Koch was publicly and proudly Jewish, shouldn't his sexuality be on the same level? Overall, "Koch" does a good job of chronicling his life and times, with many then current conversations with the man himself, as the Queensboro Bridge is renamed in his honor. At the same time, the filmmakers could have cast a wider net in interview subjects, not just talking to his allies. For example, it would have helped if they at least also talked to Jimmy Breslin and Al Sharpton. And I know it's just a curious footnote, but I would also have liked to have seen more on his acting appearances that went beyond his hosting Saturday Night Live.
½
From 1978 to 1989, Ed Koch was the enormously powerful and enormously controversial Mayor of New York City. Elected to three terms before his eventual defeat, Mayor Koch's supporters claim that he helped lead New York out of bankruptcy and instituted many of the policies that led to New York's revival, while his opponents would argue he ignored the concerns of African-Americans and homosexuals. Using the framing device of a fight over renaming the Queensboro Bridge after the former Mayor, director Neil Barsky tells the story of Koch's mayoralty and provides insight into his life at the time of filming. Both in the archival footage and the recent interviews conducted for the film, Ed Koch comes across at once funny, divisive, charming, maddening, clever, and strident. He is a man entirely comfortable with who he is: reliant for his happiness on the adoration of the public but unfazed by those who hate him. Yet even without an answer to who Mayor Koch was on a deeper level, "Koch" is a detailed and entertaining look at a fascinating time in New York City's history. Moving at a brisk pace for its 100 minutes, the film starts by providing the context of his term as Mayor and what he confronted when he moved to Gracie Mansion -- rampant crime, looming municipal bankruptcy, dysfunctional municipal government and services, a total breakdown in civil order -- and then goes on to cover many of the Mayor's works and initiatives. What clearly comes through is Ed Koch's larger than life personality as demonstrated in his cheering on city residents who walked to work over the Brooklyn Bridge during the 1980 transit strike. The film also a fair hearing to some of the Mayor's biggest perceived failures; namely those who charge that he was insensitive to the African-American community in the closing of Sydenham Hospital, police brutality towards minorities, the myriad municipal corruption scandals in his last term, and his perceived inadequate response to the AIDS crisis. Despite the Mayor's protestations, these issues clearly are black marks on his legacy. Yet the Mayor's achievements are also shown, and it's clear that Ed Koch left New York City much better than he found it. Neil Barsky makes his feature documentary debut here with a film that, astonishingly, might possibly please everyone, regardless of their opinion of Koch. With great good humor, including that of Koch himself, who appears to have cooperated fully in the production, Barsky paints a warts-and-all portrait of Ed Koch that is historically compelling, journalistically rigorous, and bursting with the larger than life character that Ed Koch was. Perhaps the remarkable thing about "Koch" is how generous it manages to be without losing its cool, impartial perspective on just how controversial Ed Koch was in almost every aspect of his mayoralty. As a final coda to punctuate his life, Ed Koch died one day before the film's premiere in the city he remade in his own image. Ed Koch was always a political showman and knew how to make an exit.
John Tandlich
Barsky may have been a little too nice to Ed Koch with this film, but I appreciate the desire to openly examine his administration in all of it's little and big contradictions.
Alec Barniskis
Super Reviewer
Koch Quotes
There are no approved quotes yet for this movie.