Kôkaku kidôtai 2.0 (Ghost in the Shell 2.0)
(2008)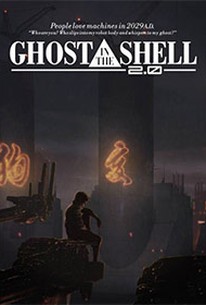 Movie Info
A film that has spawned a thousand imitations but never been bettered - Mamoru Oshii's legendary anime film Ghost in the Shell returns in a stunning new edition remastered by Oshii himself.
Critic Reviews for Kôkaku kidôtai 2.0 (Ghost in the Shell 2.0)
Audience Reviews for Kôkaku kidôtai 2.0 (Ghost in the Shell 2.0)
As someone who has not seen the original GITS in years and generally dislikes the way CG is done, I still rate GITS 2.0 five stars. The negative reviews have a point but I hardly find the film to lose /that/ much (one star?). I also disliked many of the changes to the original Star Wars but still rate the re-release version five stars also. The original animation from GITS has a lot of "soul" in it and this is a classic anime. Definitely recommended to fans of cyberpunk, Blade Runner.
Robert Brogan
Super Reviewer
The great original Ghost in the Shell movie from Mamoru Oshii returns in 2.0 fashion.
Story wise, this is the same 80 minute film. The difference comes in the presentation. Certain scenes are redone in CG format, while the rest of the film looks similar, but sharper. The 1995 film is not a prerequisite, however most of the people that watch this 2.0 version will be fans of the original.
The story is futuristic and science fiction heavy, which makes it highly interesting. This is a plus because the pacing is slow to moderate. One of the minor flaws with the story is that a lot of attention is required to follow along with what is going on. Lines of dialogue can be highly technical, which is why it is necessary to not take this movie lightly.
Earlier, I mentioned that certain scenes are redone in CG. This may disappoint some people because the difference is huge. There are scenes that are CG and then all of a sudden the next scene is typical animation, which isn't that bad to begin with. The fact that the CG scenes are gorgeous and based off of the original designs, is enough to forgive this switching flaw though.
The characters have matching voices and this is always a plus when it comes to non live action films.
Ghost in the Shell 2.0 is a classic science fiction animation that pays attention to detail in many aspects of the film. This makes it worthy of a watch.
Kôkaku kidôtai 2.0 (Ghost in the Shell 2.0) Quotes
There are no approved quotes yet for this movie.