Jiu ming (Koma)
(2004)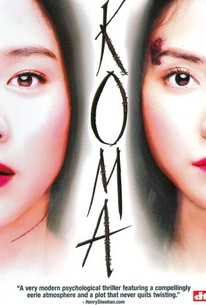 AUDIENCE SCORE
Critic Consensus: No consensus yet.
Movie Info
A woman becomes caught in the web of a gang of thieves who literally steal the lives from their victims in this thriller. Fung Chi-ching (Angelica Lee) is a woman living with kidney disease who is conveniently dating a doctor, Tsui Wai-man (Andy Hui). While attending a close friend's wedding, Chi-ching wanders into a hotel room to discover a dead body, nude and bloody and missing a kidney. While giving her report to the police, Chi-ching tells them she saw a woman making her way down the corridor as she entered the room; the woman in question turns out to be Suen Ling (Karena Lam), a medical researcher who works with Wai-man and had a brief fling with him. When Chi-ching identifies Suen Ling as the woman fleeing the scene of the crime, the police chalk it up to jealousy given their past history, but when a man who sells human organs on the black market abducts Chi-ching, Suen Ling comes to her rescue, and the two join forces with Wai-man to locate and capture the murderous thieves.
Rating:
R
Genre:
, , ,
Directed By:
Written By:
In Theaters:
On DVD:
Runtime:
Studio:
Tartan Films
Critic Reviews for Jiu ming (Koma)
All Critics (1) | Fresh (1) | Rotten (0) | DVD (5)
Some plot points depend on characters being mind-bogglingly clumsy and stupid . . .

Audience Reviews for Jiu ming (Koma)
Jiu Ming (Chi-leung Law, 2004) ...and then there was Jiu Ming (released in the west as Koma), the second organ-harvesting mystery/thriller to cross my desk in the space of twenty-four hours. It's a fun little movie with a punchy pace, a good mystery storyline (though it does, at time, feel as if it wears its CSI-loving heart on its sleeve too much), and enough wit to keep you merrily rolling along. It starts off with a lavish wedding in a hotel. After seeing the bride and groom to their suite, an excessively drunk party guest stumbles into the wrong door, assuming it's hers, and finds a naked woman crawling from the bathroom leaving a trail of blood behind her; her kidney has been harvested (a la the urban legend involving waking up in a bathtub covered in ice, with a lipsticked note on the mirror to call 911). Tell me that's not right out of a CSI episode. In any case, one of the guests, Ching (The Eye's Sin-je Lee), notices while looking through video of the reception at the police station that there's one person in the lobby who wasn't with the wedding and points her out. The police then go and find her and bring her in for questioning. This turns out to be Ling (Silk's Kar-yan Lam), but she had a very different reason for being in the hotel... and that's as far as I can go without spoilers. There are a number of other reviews you can read that will give you more details, if you like. I wish I could, because it's once we get the connections between the three principals (the other is Ching's fiancee, Wai) that things really start moving here. On one level, Jiu Ming is a straight police procedural that focuses more on the civilians involved than it does on the police, who are only ever in the movie as a peripheral presence. On the other, it's a great all-twisted-up kinda romance movie that also happens to involve organ harvesting. It could have used better pacing in a few places, and it could have been a touch less predictable in other places (though the two big twists, one in the climax and the other in the very last scene, were well-executed and unpredictable), but overall quite a good little thriller, worth seeking out. ***
Robert Beveridge
½
Nothing too spectacular, but I do hold the bias that even mediocre Asian horror movies tend to be mounds better than mediocre American horror movies.
devastator9 ..........
(***): [img]http://images.rottentomatoes.com/images/user/icons/icon14.gif[/img] Marginal thumbs up on this one. With the various Asian horror films out there, you have to just either go with them or hate them immensely because sometimes they do get silly. I just went with this one because its style is pretty good and is also one of the better thrillers I've seen recently.
TTT C
Discussion Forum
Discuss Jiu ming (Koma) on our Movie forum!