Stricken (Komt een vrouw bij de dokter)
(2009)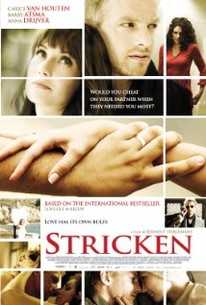 AUDIENCE SCORE
Critic Consensus: No consensus yet.
Movie Info
Stijn and Carmen have everything: They are young, successful and wealthy. They live a perfect live in Amsterdam and move to Amstelveen when they have a child, Luna. Then the world collapses as Carmen is diagnosed with breast cancer. Going in and out of the hospital, first chemotherapy and later radiation therapy, throw up, the whole cancer package is there. Stijn has trouble dealing with it and starts living a second life. By day he's all but support to Carmen, by night he goes out, drinks and has lots of sex with lots of woman. Carmen has always known that Stijn is not the faithful type, but after her breast is amputated she gets less confident and finds herself troubling over his unfaithfulness. For Stijn it has always been just sex, until he meets Roos. During the cancer period he sees her more and more. Then a miracle, Carmen is better. She asks of Stijn to quit cheating and to work things out between them. He promises her that. They go on a holiday together where Carmen finds out that Roos is still trying to contact Stijn, and she breaks down. She wants a divorce. But stuck on the other side of the world on paradise with each other brings them closer than the have been in a long time, and the are heading to a happily ever after. But faith strikes again and a week after that Carmen gets sick again. The cancer has spread and she has only several months left. With chemo they can prolong that any but not much, she will not be getting better from this. Stijn can't handle this and escapes into the arms of Roos again. He keeps supporting Carmen to the hospital and through everything, but his double life gets busier until he breaks. After getting in a terrible fight with Carmen and disappointing her and their daughter, in a discotheque he can't think about anything else. He gets in his car, under influence and causes several accidents. Nobody gets hurt except him having some cuts and bruises and he had to spend the night in jail. That is the moment he sees what he is doing. He goes home and decides to take care of Carmen and Luna for as long as it takes. His second life is over. Carmen is very sick and they move to Amsterdam again. Surrounded by family and friends she gets through her last weeks. When she wets herself in bed, she decides is enough. She only will get worse, and she is sick of it. She says goodbye to all her loved ones, including Luna, which is very emotional. The day after her doctor commits euthanasia. Stijn is with her in these last minutes and the love is evident. When Carmen is passed away, it takes some time, she stronger than they thought, he calls Roos and asks her to be at the funeral. In the end Stijn and Luna are in Australia, opening the box Carmen has made for Luna.
Critic Reviews for Stricken (Komt een vrouw bij de dokter)
There are no critic reviews yet for Stricken (Komt een vrouw bij de dokter). Keep checking Rotten Tomatoes for updates!
Audience Reviews for Stricken (Komt een vrouw bij de dokter)
½
Dutch movie, based on a book with the same title, Komt een vrouw bij de dokter, was the story of Carmen, a young woman whose life has been destroyed by breast cancer. Showing how the disease affected herself as well as her surroundings and the cruel realities of a family fighting breast cancer. Also the struggle of adapting to a life which has become so much different from the life she was used to. Dutch new comer director Reinout Oerlemans did a pretty good job on the directing, but still there were few critical points, like some plot holes in the script, when everything was clear, it should enter a new chapter in the story and at some point he dragged on too long with the story. Expect that, it was just marvelous and realistic.Carice van Houten, was beautiful as always, showing deep and different emotions and giving so much character to her role.
Daisy Maduro
Super Reviewer
Stricken (Komt een vrouw bij de dokter) Quotes
There are no approved quotes yet for this movie.
Discussion Forum
Discuss Stricken (Komt een vrouw bij de dokter) on our Movie forum!