Koshikei (Death by Hanging)
(1968)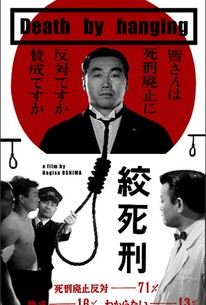 AUDIENCE SCORE
Critic Consensus: No consensus yet.
Koshikei (Death by Hanging) Photos
Movie Info
This sad tale, based on a true story of a Japanese-born Korean student who raped and killed two girls in 1958 and was then hanged in 1963 when he reached maturity, is turned by director Nagisa Oshima into a black farce reminiscent of the darkly satirical, anti-authoritarian films of Luis Buñuel. The film opens with the hanging of the criminal, but the noose fails to kill him. Instead he gets amnesia, and the executioners and officials reenact the crime, hoping to jog his memory and prove that he is guilty. Soon they begin to identify with their roles, and the line blurs between the crime and its reenactment. The film ends as a bitter indictment of Japanese nationalism, capital punishment, and Japanese institutional prejudice against Koreans. ~ Jonathan Crow, Rovi
News & Interviews for Koshikei (Death by Hanging)
Critic Reviews for Koshikei (Death by Hanging)
All Critics (3) | Fresh (2) | Rotten (1) | DVD (1)
It hits the same note a little too often, but as long as you know that another subversion is just around the corner, you'll be as thrilled by the movie as I am.
It's brilliantly directed and co-written by Nagisa Oshima.
while it's ultimately quite clear what Oshima is getting at, the means by which he gets there become more irritating than enlightening.
Audience Reviews for Koshikei (Death by Hanging)
This is a fascinating, expertly directed film. And apparently, the story's initial premise (a young Korean man condemned for murdering two Japanese school girls) is even true. The film proclaims its purpose immediately, by directly interrogating the viewer about his feelings on capital punishment. Presented through stark text cards, the central nag is (paraphrasing) "For those of you in favor of capital punishment, have you ever seen an execution?" Director Nagisa Oshima (best known in the States for "In the Realm of the Senses" and "Merry Christmas, Mr. Lawrence") goes on to introduce the floorplan of what appears to be a real execution chamber, a quaint bungalow tucked away in the corner of a large prison. From there, we are introduced to the central character "R." (shades of Kafka?), who is about to be hanged in a highly ritualized procedure. We are told that hanging victims are pronounced dead once their heart stops, and this can take up to 15 minutes after the hanging. But in this case, R.'s heart mysteriously persists and he slowly slips back to functional consciousness. Except...he has amnesia, and remembers almost nothing about the world around him. The execution crew is faced with an unprecedented intellectual dilemma. The Catholic priest insists the last rites freed R.'s soul from his body, and thus the remaining person is not the same man (and should not be punished for the earlier crime). Also, the police have a rule about the condemned recognizing their guilt before death, and now R. has no idea he has committed a crime. Oops. The hapless police come up with the solution of jarring R.'s memory by awkwardly reenacting incidents from his life. And this is where the tale starts to resemble the delightful, dark satire of Luis Bunuel. There is a surprising number of genuine laughs, and the comic acting may even turn a little too burlesque at times. However, the problem becomes more complex as the hours pass, reality blurs and all characters involved begin to question their beliefs and past transgressions. The issue of racist treatment of Koreans in Japan also becomes an important element. "Death by Hanging" is a bit overlong at 117 minutes, and the laborious process of the various stagings slightly wears out its welcome. Still, this is a provocative film which can breed debate both about capital punishment and about simply *what happened* as the story turns more surreal.
Eric Broome
Super Reviewer
Koshikei (Death by Hanging) Quotes
There are no approved quotes yet for this movie.