Kraa! The Sea Monster
(1998)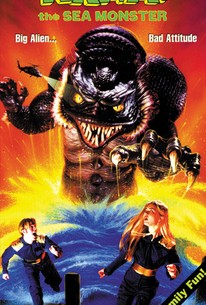 AUDIENCE SCORE
Critic Consensus: No consensus yet.
Movie Info
There's an alien on the loose, and this one is so deadly that the Earth's only chance at survival is in the hands of the legendary Planet Patrol. It's a tough job--the alien is gigantic, well armored, able to live underwater, extraordinarily ill-tempered, and known only as Kraa! Luckily, the Planet Patrol is made up of four extremely precocious crimefighting kids with experience in ridding the world of aliens and other life-threatening creatures.
Critic Reviews for Kraa! The Sea Monster
All Critics (3) | Fresh (1) | Rotten (2)
While obviously not a masterpiece, this is far from wretched either...

Reel Times: Reflections on Cinema
Audience Reviews for Kraa! The Sea Monster
½
The plot is a mess, and from what I've heard the original script was better, but it's a fun campy little film. There are too many characters though, and some of them have little to do with the overall plot. The ending drugged on too long and the dialog was childish. The creature sets though were very nice. The film is not too good, but not too bad.
Wes Shad
½
It has a mushroom looking alien with an italian accent, give it a try. -http://dailycommentator.blogspot.com/
Media Master
½
Kraa! The Sea Monster is another attempt from the good folks at Full Moon Entertainment (namely Charles Band, whose brought us the likes of Puppet Master and other such wacky Z-grade horror) to present another kid-friendly giant kaiju monster movie (does anyone remember Zarkorr! The Invader?). In this, the evil Lord Doom and his midget minion look to take over the Earth by enlisting the help of a supergalatic monster for hire (Kraa) to go down and start tearing cities apart. On the outskirts of the solar system is a death star compound known as the Planet Patrol where young children (including a young Alison Lohman from Drag Me to Hell) patrol the planets but are taken down by Lord Doom so they send one lone alien named Mogyar (a slimey, gooey piece of mold that speaks with an extremely fake Italian accent) to stop Kraa. Mogyar enlists the help of random genius biker R.L. McMurry and sassy black woman Teal Marchande (whom I'll always remember as the mom from Kenan & Kel) to help him build a superweapon to kill Kraa while also avoiding the evil government agents. Thank goodness this film is barely 69 minutes, because it's pretty much borderline retarded in terms of acting, effects, and storyline. The kaiju monster scenes are a slight improvement over Zarkorr! The Invader. The film also seems much more kid friendly, though I find it hilarious that they try to market this for kids, but also include a bunch of trailers on the DVD that have blatant titties all over the place. Very silly, but then again, that's Full Moon for you!
Jason Duron
Kraa! The Sea Monster Quotes
There are no approved quotes yet for this movie.
Discussion Forum
Discuss Kraa! The Sea Monster on our Movie forum!