Krabat (Krabat and the Legend of the Satanic Mill)
(2008)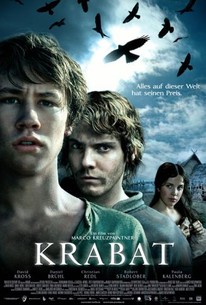 AUDIENCE SCORE
Critic Consensus: No consensus yet.
Krabat (Krabat and the Legend of the Satanic Mill) Photos
Movie Info
Director Marco Kreuzpaintner adapts author Otfried PreuÃler's award-winning novel about a young sorcerer's apprentice who rebels against his malevolent master after making a disturbing discovery. The year is 1646. Krabat is a starving fourteen year old orphan from Germany who has struggled for survival after seeing his country decimated by war and disease. One night, a strange voice calls out to Krabat in his dreams, beckoning the destitute child to a mysterious mill in the countryside. When the miller offers Krabat room and board in exchange for becoming an apprentice, the hungry young boy readily accepts. But something isn't quite right in this mill, and Krabat can sense it. He gradually begins to suspect that the eleven other young men who live in the mill are harboring a mysterious secret, suspicions that are later confirmed when the curious newcomer discovers that his fellow apprentices are involved with some truly bizarre activities. Upon further inquiry, Krabat discovers that the miller is in fact a master of the dark arts, and that the young men who reside in the mill are his students. Fascinated by their magic and eager to belong, Krabat accepts their invitation to become a member of their secret society. When Krabat discovers that his new master's plans could spell doom for his protector and best friend Tonda, however, realizes that in order to save Tonda he will somehow have to break free of the malevolent sorcerer's powerful grip. ~ Jason Buchanan, Rovi
Critic Reviews for Krabat (Krabat and the Legend of the Satanic Mill)
There are no critic reviews yet for Krabat (Krabat and the Legend of the Satanic Mill). Keep checking Rotten Tomatoes for updates!
Audience Reviews for Krabat (Krabat and the Legend of the Satanic Mill)
This German fantasy film about a boy, Krabat (played by David Kross), who learns black magic from a sorcerer (played by Christian Redl) is one of the better European movies I watched recently. I love German movies and Werner Herzog, Wim Wenders and Rainer Werner Fassbinder are on the list of my favourite directors. Now I can add and Marco Kreuzpaintner who directed this movie the best possible way from a screenplay by Michael Gutmann and Kreuzpaintner. The screenplay was based on Otfried Preußler's novel of the same name, which is actually a children book but with much darker note than Harry Potter - a real riveting Faustian tale of young men seduced by the lure (and might) of black magic, happening during the Thirty Years War (1618-1648) which devastated this part of the world and brought the starvation and the Plague! The story was an adaptation of an old Sorbian legend and it was simply captivating! I admired the story telling ability which was of the highest rank! Performances in the film were heartfelt and committed, especially by David Kross and Paula Kalenberg as youngsters in love and Christian Redl as the Master! Smooth camera work and great cinematography just added to the enjoyment of this art work! I wasn't too impressed with the some of the flight scenes, especially in this time of the developed CGI techniques, but 2008 was a few years ago! I'll accept that as an excuse... If you like fables as a kid you'll love this movie as an adult! Give it a go!
Decent German fantasy tale about the dark secrets of an old mill where 12 boys work for an evil magician. The cinematography and production design is really nice, it makes the movie look far from cheap but like a big production. It's also worth noting how much production relied on real sets, real villages, real nature, only the few special effects are obviously tricks. That makes for a realistic atmosphere from the Thirty Years' War. The acting is pretty decent too. The mystery of the happenings around the mill is interesting and keeps you watching, but somewhere on the way the film loses some of its focus. The result is still satisfying for fans of the genre, one just shouldn't expect an action packed fantasy adventure, more a dark fairy tale.
½
You could stop and start the film at any given moment and it will make no difference whatsoever. The film is unfocused and has terrible pacing, it is neither thrilling nor interesting.
Quinto Wallight
Super Reviewer
Krabat (Krabat and the Legend of the Satanic Mill) Quotes
There are no approved quotes yet for this movie.