The Edge
(2010)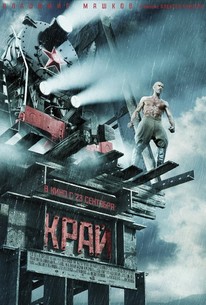 AUDIENCE SCORE
Critic Consensus: No consensus yet.
Movie Info
The action takes place shortly after the end of the Second World War in the Siberian hinterland, among Russians and Germans with damaged personal stories and a strange transformation: the victors seem to be crawling into the skins of the defeated, and vice versa. Ignat, is the embodiment of the larger-than-life image of the Soviet victorious warrior who, in fact, proves to be shell-shocked, sick and broken, although not completely destroyed. Trains become fetish for the heroes of the film, and speed becomes a mania; they virtually become one with their steam engines, while the machines take on human names. The heroes set up an almost fatal race in the Siberian forest, risking their own lives and those of others.
Critic Reviews for The Edge
All Critics (2) | Fresh (2) | Rotten (0)
Tipping on the edge of the tracks and threatening to fall under the weight of its hysterics, this film conveys the darkness and chaos that was post-war Russia.
Brilliant film about life in a gulag in 1946 with steam locomotives playing as important and as dramatic a role as the human actors.
Audience Reviews for The Edge
A Soviet train engineer hooks up with a German woman in the Siberian hinterland -- much to the disapproval of his Soviet compatriots. I'll start by saying that I'm not sure that I fully understand this film; I think that one might need a more extensive knowledge of Russian post-war history than I have in order to understand this film's context. I can only respond to what I see, which is a hyper-masculine world of competition and an environment of anti-German prejudice. These two themes are explored in the main relationship, but whether the film is critiquing, lauding, or merely presenting these aspects of Russian post-war life is still unclear to me. I can also say that I didn't enjoy the film. There wasn't a lot to like, and I had trouble following it. All of the characters are undesirable people. Overall, as I believe I made clear, I wasn't able to get a good handle on this film.
Jim Hunter
Super Reviewer
The Edge Quotes
There are no approved quotes yet for this movie.