Kuch Kuch Hota Hai
(1998)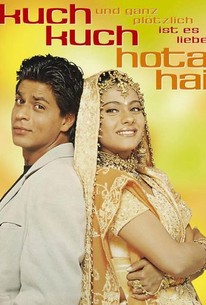 AUDIENCE SCORE
Critic Consensus: No consensus yet.
Kuch Kuch Hota Hai Photos
Movie Info
Translated into English as "Something is Happening," this Hindi-language Bollywood film tells the story of two close friends at college, male Rahul (Shahrukh Khan) and tomboy-ish female Anjali (Kajol). Seemingly proving the age old theory that men and women can never be platonic friends without complications, Anjali falls in love with Rahul, without his knowledge. Rahul then tells the poor girl that he's fallen for Tina (Rani Mukherji), and Anjali flees the college. The tale then cuts to a point in time years later, after Tina has unexpectedly died, leaving Rahul as a single parent, free to meet Anjali again.
Critic Reviews for Kuch Kuch Hota Hai
All Critics (3) | Top Critics (1) | Fresh (2) | Rotten (1)
For well over two hours the film is hectically entertaining, its performances, camerawork, storytelling and extensive musical numbers all energetically colourful.
There are no prizes for guessing exactly how the film concludes, but all that really matters is that we enjoy getting there.
Karan Johar's directorial debut was much hyped before its release, but it offers little to distinguish it from the average Bollywood melodrama.
Audience Reviews for Kuch Kuch Hota Hai
Bad dialogue and effective storytelling come to an intense confrontation in this long, star-studded Bollywood Hit about friendship and college romance. I'm going to be frank here: This movie possesses some of the most painful and hard-to-sit-through moments I have ever watched in a motion picture --- at least in its first 45 minutes. The overly goofy and silly dialogue combined with the cheesy performances from actors Shahrukh Khan and Kajol all the way to the stage dancers make KKHH feel as downright offensive to my intelligence as this run-on sentence. But once again, I digress...it's really about love, right? And what love there is, in the juicy, melodramatic plot. KKHH runs on the love triangle formed by the three central characters who meet during college. Needless to say, many things go awry and plenty of volatile emotions are stirred --- so many emotions! What I like in KKHH is the clever use of flashbacks/back-stories to make it one of the few Bollywood films that actually justifies its two-act structure. The melodic songs were also strong. What I found tedious was the cheesy dialogue, acting, and rather bland dance sequences, the latter of which were surprisingly weak for a Hindi film, especially when compared to the fantastic set pieces of a film like 'Hum Dil De Chuke Sanam.' Altogether, this is one of the weaker Bollywood "hits" I have seen. It ends in a pretty satisfactory way, but that alone cannot make up for its mind-numbing, juvenile acting and dance scenes that don't deliver the goods. But the main culprit here is once again the poor dialogue. Viewers can either choose to educate themselves on this issue or live in fanboy denial. I maintain that there are two kinds of people in this world --- people that understand what I'm saying, and people that like this vomit-inducing colloquy.
Todd Bollinger
luv this moviend the song.LUV RANI ND SHRUUH KHAN!!!!!!!!!!!!he is madddddd cute nd rani is madddddddddddddddddddddd pretty
shaliza wahab
½
Great movie with an amazing story plot by Karan Johar. Great cast-Shahrukh Khan, Kajol, and Rani Mukherjee are all phenomenal!! Great love story about two college pals (Rahul and Anjali) who do just about everything together, until the principals's daughter (Tina) arrives and Rahul quickly falls in love with her. It is then, that Anjali also begins to realize her love for Rahul, but is suddenly too late to confess her love. Eight years after, Rahul loses Tina after childbirth and raises his daughter (named also Anjali) with his mother. On her 8th birthday, young Anjali realizes her mother's greatest wish to reunite both Rahul and Anjali. Fantastic music, sweet songs!! Definitely worthy.
Kuch Kuch Hota Hai Quotes
There are no approved quotes yet for this movie.
Discussion Forum
Discuss Kuch Kuch Hota Hai on our Movie forum!