Kundun
(1997)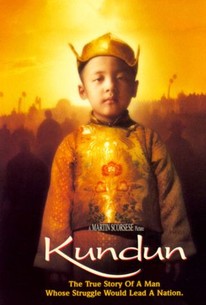 TOMATOMETER
AUDIENCE SCORE
Critic Consensus: Hallucinatory but lacking in characterization, Kundun is a young Dalai Lama portrait presented as a feast of sight and sound.
Movie Info
Martin Scorsese's magical mystery mandala on the life of the Dalai Lama is a visually exhilarating, spiritually ambitious film that goes where Scorsese has never gone before.
People Who Like this movie also like
News & Interviews for Kundun
Critic Reviews for Kundun
Audience Reviews for Kundun
½
The cover of Kundun makes you think "kids movie," until you see who directed it: Scorsese. No one gets whacked, and the film is nearly bloodless, (compared to, say, Goodfellas), but if it wouldn't horrify a child, it would certainly bore one, as it's basically a biopic. This may, in fact, be the one time we could accuse Scorsese of Oscar-baiting: Tibet was a hot issue in the mid-90s, and you know how much the Academy likes this kind of story (see: Gandhi), and it's almost purgatorial of him, after Casino, to turn his attention to this paragon of non-violence - as he did with Jesus, too, come to think of it. Scorsese's fascination with violence makes this - and Last Temptation of Christ - a strange choice, but then again, violence can be equally fascinating in its absence. A lot went right, but Kundun will forever be lumped with Last Temptation in the "departures" section of Scorsese's career. As concerns the film itself, it opens rather dully, with a strangely ominous Tibetan drum track appearing almost too often, but eventually it wraps its loving arms around you and shares excellent cinematography, insights from afar, and wonderfully unfamiliar music (by Phillip Glass). The powerful way in which the music drives the film almost makes up for a plot - discovery of the Dalai Lama, his coming of age, confrontation with Mao and his exile in India - that's somewhat rote, and for wooden acting across the board (language barrier, perhaps?). In all, it's not Scorsese's best work, but to dismiss it is to overlook some of the aspects of his films that - as the Academy recognized, with Hugo - are among the best in the industry: costuming, music, sound, cinematography, makeup... all things you can't really be the best at without having the Best Director, but I digress. Kundun is unorthodox, but if you let it, it can carry you away.
Daniel Perry
Super Reviewer
½
more than any of scorsese's films, kundun shows his remarkable range as a story teller. the film struggled to draw in real emotion at points and reverence shown to the dalai lama went too far in missing an opportunity to show his flaws, but just about every other element of this film was nearly perfect. deakins cinematography was astounding, some of the best of his already mind blowing career, and the landscapes, costumes, and acting performances were all excellent. when this film is set against scorsese's gangster films as a contrast, you can really see the difference between the hate and sin of those characters and the humility and spirituality of these ones. a stunning film.
A film I have been wanting to see for quite some time, purely on a spiritual level and because I have an attraction toward Tibet. I feel I have learned a few things from this film, but at the same time I found it a little boring - which was a little disappointing. The film, directed by Scorsese, was made well and I'm sure resembled the facts as a true story, it just wasn't as insightful as I had hoped it would be.
Lady D'arbanville
Super Reviewer
Kundun Quotes
| | |
| --- | --- |
| Indian Soldier: | Are you the Lord Buddha? |
| Dalai Lama (adult): | I believe I am a reflection, like the moon on water. When you see me, and I try to be a good man, you see yourself. |
| | |
| --- | --- |
| Chairman Mao: | Religion is poison. |