Kung Fu Mahjong
(2005)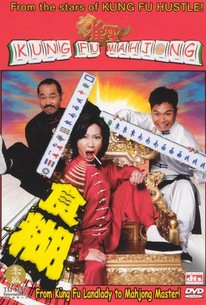 AUDIENCE SCORE
Critic Consensus: No consensus yet.
Movie Info
It's mahjong madness when a pair of scheming gamblers finds their once-lucrative hustle leading them into hot water in this action-comedy starring Kung Fu Hustle's Yuen Wah and Yuen Qiu and directed by God of Gamblers helmer Wong Jing. When betting man West meets a waiter named Wong who possesses the remarkable ability to remember the exact position of all 144 mahjong tiles on the table, the pair set into motion a foolproof scam that brings in big money on the mahjong circuit. Though the upcoming "Master of Mahjong" tournament offers the prospect of big money and even greater fame, the pair finds their once perfect plan going to pot when West is kidnapped by some scheming opponents with a plan of their own. Now, as the tournament draws near, it's up to Wong's boss Auntie Fei to enter the tournament, put her gambling skills to the test, and take the tables by storm.
Rating:
NR
Genre:
, ,
Directed By:
Written By:
In Theaters:
On DVD:
Runtime:
Studio:
China Star Entertainment
Critic Reviews for Kung Fu Mahjong
There are no critic reviews yet for Kung Fu Mahjong. Keep checking Rotten Tomatoes for updates!
Audience Reviews for Kung Fu Mahjong
Jeuk Sing (Siu-hung Chung and Jing Wong, 2005) Jeuk Sing, released in English-speaking countries as Kung Fu Mahjong, was enough of a success in its native China that it inspired two equally cheap sequels (as I write this in August 2012, you can see the entire trilogy on Netflix Streaming, though how long it will last there is anyone's guess). But, honestly, this cheapie action-comedy is so badly-written and fails to rise above its potential for mediocrity so often it feels just like a typical Hollywood rom-com, only the âromâ? parts are replaced by mahjong games. Does it work? Not really. Plot: Chi Mo Sai (Kung Fu Hustle's Wah Yuen) is a professional gambler who loses his shirtâ"literallyâ"in a game and finds himself locked in a cage by a couple of loansharks. He escapes from them and ducks into a local diner to hide out, where he meets waiter Ah Wong (Visible Secret II's Roger Kwok), known by the diner's regulars for his eidetic memory. Chi Mo Sai sees the obvious potential if he can get the kid educated in mahjong, and takes him to old friend Auntie Fei (Rumble in Hong Kong's Qiu Yuen, returning to the screen after a twenty-year hiatus), the Queen of Mahjong, to train. There's more to it than that: Ah Wong is enamored of Cheryl (Fatal Contact's Theresa Fu), an amateur badminton player he passes every day on his way home from work, and Chi Mo Sai concocts a way to get these two kids together... ...all of which is well and good, except that, well, it isn't. The loanshark plotline disappears into thin air after about twenty minutes, the romantic subplot after about forty. And Chi Mo Sai's lifelong pal, who he gets kidnapped with in the opening scene? Where did he go? No idea. All of this kind of gets swept under the rug as the plot whisks on too quickly for such niceties. Which makes this a fun, fast-paced little comedy, as long as you're willing to ignore the bits that go missing. **
Robert Beveridge
½
Not quite as funny as Kung Fu Hustle, but this humorous drama does keep you entertained.
Anthony Valletta
Super Reviewer
½
Hilarious! stupid but none the less hilarious. makes me wish i knew much more about mahjong. slapstick never goes outta style :)
Dexter Doom
Kung Fu Mahjong Quotes
There are no approved quotes yet for this movie.