Kung-Fu Yoga
(2017)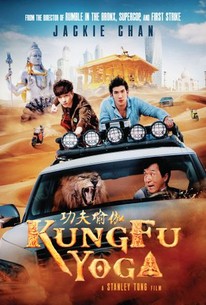 Movie Info
Jack (Jackie Chan), a world-renowned archaeology professor, and his team are on a grand quest to locate a lost ancient Indian treasure when they are ambushed by a team of mercenaries and left for dead. Using his vast knowledge of history and kung fu, Jack leads his team on a fast-paced race around the world to beat the mercenaries to the treasure and save an ancient culture in this hilarious, breakneck action-comedy that reunites Chan with acclaimed director Stanley Tong (Rumble in the Bronx, Supercop).
News & Interviews for Kung-Fu Yoga
Critic Reviews for Kung-Fu Yoga
Audience Reviews for Kung-Fu Yoga
I always seem to say this when going into late-period Jackie Chan movies, but ever since I first saw the man in Rumble in the Bronx in 96, when it was released on this side of the world, I loved him. To the point that there were a few re-releases of his earlier movies here that I made my mother take me to, the saint that she is. But, you know how it is when you're a kid. Sometimes you like things, or in this case an actor, that makes you think 'oh god, what was I thinking?' when you get a little older. But Jackie Chan has never been one of those guys. Because, for as much as people may want to criticize his acting, at least for his American movies since his thick accent makes it really hard to understand him at times without subtitles, his influence in the world of action and, most importantly, stunt-work can never be denied. This man did things to himself and to his body that none of his major counterparts in North America could claim. I remember when Mission Impossible 2 was coming out and Tom Cruise said that he did all his stunts and now I'm like 'yea, right motherfucker, the studio's not gonna let you do some of these things, they need to protect their investment'. And, really, there's no real equivalent to what Jackie has done on this side of the world. And, of course, stunt-men and women risk their lives all the time in the films they're in and, sadly, many have died performing these stunts. But what I mean is a major movie star like Jackie doing his own stunts. You don't have that here and I don't mean that as a point of criticism. Jackie did shit to his body that I don't expect anyone to even ever come close to thinking about doing to themselves. Which is why it always breaks my heart when, watching, late-period Jackie movies to find that he can't do what made him famous anymore. Though, to be fair, I don't think he tries to live up to what he did before. I think that's why, at least in some of his recent flicks, have been more action-adventure driven instead of just pure action. And, on top of that, he has a young cast of actors who, hopefully, can do a lot of the heavy lifting for him. This fits into that category. This is very much like if Jackie decided that he wanted to be in a Indiana Jones movie if that Indiana Jones movie ended up being not particularly good. To be fair, though, one of the major problems is that I feel like I've already seen this movie WITH Jackie Chan already. And that movie was Chinese Zodiac that came out, apparently, five years ago. I don't wanna say that it's the same movie, because it's obviously not. But, in Chinese Zodiac, Jackie played a character who went around finding priceless relics. In this movie Jackie plays an archaeologist, teaming up with his Indian counterpart(s), to help find some priceless Indian treasure. The MacGuffin is different, but the movies are essentially the same, globe-trotting adventures in search of a lost treasure to help restore a part of that country's culture, in this case India. Jackie has a lot of movies like that, a villain from another country trying to steal a relic that, morally and ethically (as they frame it in these movies at least), belong to another country and their culture. One of the Project A movies had this concept and those movies are pretty old, so it's not a new concept in his movies and, quite frankly, it's a little tired and cliched, but it is what it is. In all honesty, while this movie wasn't bad in the conventional sense, it's not particularly good. I feel like Chinese Zodiac pretty much covered everything that you'll see here and it did it in a much entertaining fashion, even if I felt it wasn't a good movie. Look, I don't think anybody in the world makes these kinds of movies anymore. What I mean by that is that this is a harmless, (meant to be) fun, black and white action-adventure movies. There's no real darkness, no real grit to any of these. I don't mean that as a negative, of course, not everything needs to be dark and serious. So, at the very least, the movie doesn't take itself so seriously. That doesn't mean that this should get a pass for a wildly inconsistent and sometimes cringe-worthy movie. Jackie Chan has never been the best of actors, even though there's been flashes of brilliance in his career, but even he's not the worst actor in this entire movie. Disha Patani, who played Ashmita, was really bad in this fucking movie. Perhaps bad might be overstating the point. But the thing about Jackie, as bad as some people think he may be, is the fact that in spite of that, he's a very charismatic man. People are drawn to him regardless of whether or not he can act. He's used his likability factor expertly throughout his career. Disha Patani, on the other hand, has no real charisma whatsoever. She's actually a black hole of it. Disha is where charisma goes to die. And, again, maybe that's overstating the point, but she looks like a very pretty robot that's been programmed to act. The lead programmer for Disha might have been done by Hayden Christensen, honestly. Maybe she's just uncomfortable in a language that isn't her own, but she's very robotic. She's always smiling for literally no reason whatsoever. 'Oh I fell down a hole and broke my leg, let me smile like I'm in a shampoo commercial'. That didn't happen, but it's just an example. She has no range. Though, if I am being fair to Disha and to every other actor in this movie, the dialogue was reaaaaaaaally bad. Like SO fucking bad. I don't think that the god of acting himself, Daniel Day-Lewis, would have been able to save this script. The lead villain is fun. His first appearance is literally him riding on a white horse, in the middle of the desert, with a hawk on one arm while wearing some pretty fashionable clothing. Oh and he has great hair too. It's so obvious that this man is the villain right from the start and he does traditionally over-the-top Bollywood action film things, like getting out of a car safely as it's flipping over. I just wish the movie would have had more of him being an absolute asshole to everyone instead of just the blandness of our heroes. Hell, there's a scene where Jones, one of Jack's team members, steals a diamond artifact and leaves everyone else to be rounded up by the villains and his goons, so he could sell it at an auction. They meet up with him again later, at the auction in Dubai and it's never brought up again. He just reunites with the group, they forgive him and move on with their lives in a really stupid scene. This motherfucker left you for DEAD in an ice cave with the villain and his men. You're not gonna give him shit over it??? You're not even gonna bring it up again??? What is life???? Not to mention the fact that the diamond is a stolen artifact and, I'm sure if the governments of China and Dubai got into contact, they would have stopped the auction. It's a fucking stolen artifact that doesn't belong to the person who's selling it. I'm sure there's the proper channels to go through that doesn't involve Jack's team actually going to Dubai, using one of his rich friends to BID on the actual diamond so Jack could take it back. Oh and his friend spent $160 million to buy this diamond. Yes, really. Talk about contrived. It needn't have been this difficult, but since the movie requires this to reveal that Ashmita was pretending to be someone else, but it's just stupid. It's that kind of scripting that makes this movie a really tough sell. The point is, I just wish the villain had been a larger part of the movie, because I found him supremely entertaining in an over-the-top manner. As far as action goes, there's nothing really memorable here, though the chase scene with the lion in Jack's car was pretty fun. Other than that, there's nothing really all that memorable or exciting here. It's standard action-adventure stuff. It's not bad, but it just doesn't stick with you. I wasn't the biggest fan of this movie, but it was fine. I mean the only reason it ends up getting two stars is because of the Bollywood dance at the end, where even the villain joins in. I've never been a big song-and-dance guy, which is why I don't watch Bollywood films for the most part, but it can be fun if kept to a minimum. And, by this point, the main narrative had already been resolved so I had no problem with this. If I'm being honest, the Bollywood dance was the best part of the film. That should tell you something. With that said, I really wouldn't recommend this movie. I got through it just fine, but it's not particularly good and certainly nothing that anyone needs to see particularly when Chinese Zodiac already exists and is better than this.
Jesse Ortega
Super Reviewer
Kung-Fu Yoga Quotes
There are no approved quotes yet for this movie.