Kung Phooey!
(2003)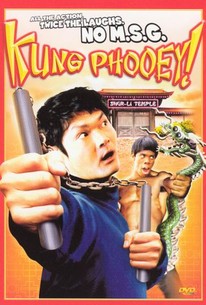 AUDIENCE SCORE
Critic Consensus: No consensus yet.
Movie Info
A bumbling martial artist embarks on a hilarious quest in this high-kicking spoof of kung-fu films from director Darryl Fong. The champion fighter of China's mystical Shur-Li Temple, Art Chew (Michael Chow Man-Kin), is sent to America by his master on a mission to find a mystical peach that holds the power of eternal life. Assisted by his best friend, Roy Lee (Colman Domingo), and the comely Sue Shee (Karena Davis), Art travels to the U.S. in hopes of completing his mission and earning the eternal respect of his wise Master Card (John Shin).
Rating:
R
Genre:
Directed By:
Written By:
In Theaters:
On DVD:
Runtime:
Studio:
Nakota Films
Critic Reviews for Kung Phooey!
Audience Reviews for Kung Phooey!
a veryyy good low budget movie..i thought the humor was very original and very specific to kung fu movies (such as roy lee the jet lee wannabe) the movie was full of dumb laughs but was still perfect! the storyline actually made sense and didnt really have any loopholes or parts that didnt make sense. it was very well thought out and executed. i would recommend it to any kung fu fanatic that would not get pissed off at a lil fun towards kung fu movies. its not annoying like kung pow where they just plain out make fun and embarass kung fu movies, this one actually made fun of them with dignity.
Ryan Bahl
½
It's not really a bad movie for what it is. It's a low budget spoof of the Kung Fu genre. And, at times, it works as such. But the sad truth is that it falls into the pitfall of 90% of low budget comedies. It just doesn't know how to tell a joke. The joke is set up and given, but the punchline just kind of falls flat and without much fanfare. I don't know what is with low budget comedies like this. Perhaps it's too long of a pause after a punchline. Perhaps it's silly music to accentuate the punchline. Who knows? But anyway, the script is good enough, the acting is good enough, the filming is good enough. For a low budget film, at least you can see the director knows what he's doing. But it just kind of sits like cardboard in that it's not funny. Kind of a shame, it had potential.
Adam Adkins
½
well well, actually watchable. not twice of course, but i sat through it once w/o major cramping. and Brandon and Nathan were actually recognizable!
da pain elaine