Kunoichi: Lady Ninja
(2000)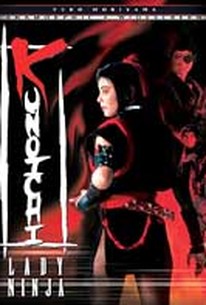 AUDIENCE SCORE
Critic Consensus: No consensus yet.
Movie Info
Set in feudal Japan, Kunoichi: Lady Ninja is the seventh in a series of blood- soaked Kunoichi samurai films loosely based on novels by Futaroh Yamada. When the evil demon lord Akinari desires more beautiful women for his personal pleasure, he sends his seven deadly demonic henchmen out to attack a nearby convent. All the women are killed except seven who have unique magical ninja powers known as Kunoichi. To seek revenge on Akinari, the seven women team up with the legendary samurai sword master, Yagyu Jubei (Hitoshi Ozawa). Ozawa served as both actor and director of this blood-soaked martial arts fantasy adventure. ~ Jason Gibner, Rovi
Cast
Critic Reviews for Kunoichi: Lady Ninja
There are no critic reviews yet for Kunoichi: Lady Ninja. Keep checking Rotten Tomatoes for updates!
Audience Reviews for Kunoichi: Lady Ninja
(***): [img]http://images.rottentomatoes.com/images/user/icons/icon14.gif[/img] So bad its good. Blood, nudity and violence galore, I was mostly confused during this movie but I still had some fun. If you liked [i]Deadly Mirage[/i], you'll enjoy this one too.
TTT C
bleh...being semi-sick and going to work sucks. Anyways two nights I saw Fargo. Now, a lot of people have seen this flick but I have never done so in my life. Caught it on one of the movie channels last night, anyways. Very very good, well acted and it keeps your interest throughout the entire film. There were some parts that seemed like they could have not been used (the Japanese guy in the bar for example) there really wasn't any point to him. But great film overall. I also last night caught something called Kunoichi: Lady Ninja. TERRIBLE!!!!!! AVOID!!!!! Unless you want some laughs. Basically...it was like an adult version of power rangers. Costume changing in about two seconds. A team of nothing but girls, a blind swordsman, and a one-eyed guy. On yeah...pretty much for the girls to unleash their Ninja Magic they had to either be naked or just having sex. One of the moves if I recal is "Ninja Magic Nipple storm"....or something like that. It was entertaining only by the mere factor that it started of great...and then just plumeted.
S. Chroninger
Kunoichi: Lady Ninja Quotes
There are no approved quotes yet for this movie.
Discussion Forum
Discuss Kunoichi: Lady Ninja on our Movie forum!