Kuroi kawa (Black River)
(1957)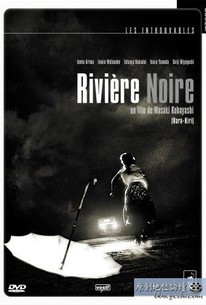 AUDIENCE SCORE
Critic Consensus: No consensus yet.
Kuroi kawa (Black River) Photos
Movie Info
A university student stands up to his corrupt landlord.
Critic Reviews for Kuroi kawa (Black River)
There are no critic reviews yet for Kuroi kawa (Black River). Keep checking Rotten Tomatoes for updates!
Audience Reviews for Kuroi kawa (Black River)
½
The great Masaki Kobayashi is commonly referred to as among the greatest of Japanese director's which include Akira Kurosawa, Yasujiro Ozu, and Kenji Mizoguchi among others and his later films are of great acclaim and include "The Human Condition" Trilogy (1959-1961), "Harakiri" (1962), "Kwaidan" (1964), "Samurai Rebellion" (1967). This earlier work shows the director coming into his own and fighting to see his artistic vision come to life despite the studio he was working for trying to sway his commitment. Overall "Black River" is both an early and experimental work on the part of Kobayashi and one that while clearly establishing it's message, fails as a cohesive work. This isn't to say there isn't anything to like in the film but what positive elements it contains is outweighed by the gimmicky nature and melodramatic script. This was the first role of the legendary Tatsuya Nakadai ("Yojimbo", "High and Low", "Ran" and countless other masterworks) and he portrays a local thug who is both unpredictable and dangerous on a multitude of levels. The film deals with the corruption involved in and around U.S. military bases on Japan and the country's faltering into moral anarchy and chaos. The film showcases there tensions in many different ways and utilizing several distinct characters to do so but has a rather bleak and hopeless message in the end. I feel like if some of the humor or gimmicky elements were toned down or done away with the film would have been much better off. Still if you appreciate the director's later works, including many masterpieces, you owe it to yourself to investigate his origins and first films.
Chris Browning
Super Reviewer
Kuroi kawa (Black River) Quotes
There are no approved quotes yet for this movie.