Kurt Vonnegut's Harrison Bergeron
(1995)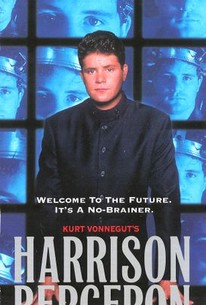 AUDIENCE SCORE
Critic Consensus: No consensus yet.
Kurt Vonnegut's Harrison Bergeron Videos
Kurt Vonnegut's Harrison Bergeron Photos
Movie Info
Sean Astin stars as the title character in this creepy made-for-cable adaptation of the Kurt Vonnegut classic. Set in a future America, where a small, elite group controls the masses, teen Harrison Bergeron is chosen to lead a movement that promotes mediocrity. Christopher Plummer stars as John Klaxon, the mastermind behind the attempt to uniformly dumb-down Americans.
Rating:
R
Genre:
,
Directed By:
In Theaters:
On DVD:
Runtime:
Studio:
Republic Pictures Home Video
Audience Reviews for Kurt Vonnegut's Harrison Bergeron
I don't want to believe that Vonnegut had anything to do with this horrible "adaptation" of his brilliant short story. This is just awful, sharing only the name of the short story. Something that I really need to check into... I really can't believe that Vonnegut allowed his name to be attached to this sort of boy teen trash.
Malachi Constant
How come no one's seen this movie? To be honest I hadn't until my teacher shown me this, but couldn't this at least be more recognized? I haven't read the novel yet, but the dialogue, setting, and concept really pull me in. I love how the government tries to make an equal average world without envy by keeping a person's intelligence, talents, and etc. I think it does a good job explaining the setting and Harrison's life style and soon change into a secret area. My second favorite part is when Harrison reveals the secret area and what people are capable of if they weren't trying to be made equal to stop envy. My favorite is his conversation with the man in charge about what a person can be capable of (good and bad). I'm not sure if the film's main point was to show that something cannot exist without its opposite but I still think it's present. Harrison himself explains that when they took away envy, they took away love. They also try to take away stupidity and intelligence as well as many other opposite to make man equal. I'm pretty sure at the moment, this is my favorite movie. I think it really picks up once Harrison is apart of the secret area and it's a movie that makes me question things.
Max Dagnall
this is by far my favorite movie of all time. in this adaptation of kurt vonnegut's short story sean astin plays harrison bergeron, a young man in the not so distant future. harrison is very intelligent in a u.s. where its illegal to be anything but average at anything from test scores to sports. in this dystopian future there are many parrallels to our current 2009 society, a couple of the main examples of these are that everyone in this dismal future have to be handicapped by an electronic band that must be worn at all times in order to keep everyone from being too focused and in effect the band hinders intelligece. this clearly symbolizes tv and how it causes add and adhd. although this movie causes the viewer to look at a multitude of differnt isues in a very artistic way the acting does leave quite a bit to be desired. only the supporting actors that dont have many lines are fairly bad actors so this is easily looked past. ultimately the very human lesson that is being taught by this movie is that that we want the most and need above all else is freedom, and that we as people are willing to do whatever it takes to atain this freedom.
billy french