L: Change the World
(2008)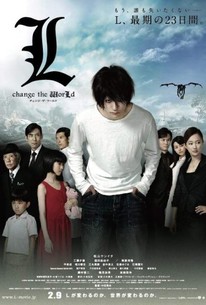 AUDIENCE SCORE
Critic Consensus: No consensus yet.
Movie Info
A spin-out sequel to the popular Japanese thriller. This time it focuses on the character L. L is recruited to save humanity from a deadly virus that wiped out a whole Thai village and his friend F. His oponents are K and a twisted environmental group who want to "cleanse" the world of it's excess population with the deadly virus. His accomplices are two young children--an English-speaking boy who's the only survivor of the virus infected Thai village, and a Japanese school girl who's the child of the professor who developed the virus antidote.
Rating:
NR
Genre:
Directed By:
In Theaters:
On DVD:
Runtime:
Critic Reviews for L: Change the World
There are no critic reviews yet for L: Change the World. Keep checking Rotten Tomatoes for updates!
Audience Reviews for L: Change the World
[img]http://images.rottentomatoes.com/images/user/icons/icon13.gif[/img]
Directors Cat
Super Reviewer
Hideo Nakata's spin off of the Death Note series, L: Change the WorLd, is exactly that. Just a simple spin off.
Although this picture does follow it's own separate storyline, there are small bits and pieces, especially in the early going, that relate to the original Death Note plot. With that said, watching the previous 2 Death Note films, or at least understanding the original plot, is beneficial before viewing this one.
The run time is just over 2 hours and for what transpires in this picture, it is a bit long. The character and story build up does take a while and it is nearly 1 hour in before the interest level starts to pick up. The story isn't overly complex, and while this does leave off confusion, it is still somewhat of a letdown.
Ken'ichi Matsuyama shines as L, and because of his antics, any scene involving his character is enjoyable. Mayuko Fukuda also delivers an entertaining performance. The villains are stereotypical and the only person worth noting is Youki Kudoh as Dr. Kujo.
As the 23 days go by, L: Change the WorLd plays out more like an action adventure rather than a battle of wits. Grab some sweets and enjoy the watch.
This movie uses the setting of the Death Note movies, but lacks what made Death Note so fascinating: an intricate, constantly-changing storyline involving extremely intelligent enemies and their intellectual warfare. Naomi Misora, Watari, Misa and Ryuuk were given cameos, but nothing much was really done with their characters and the movie would hardly be any different if they never appeared. After burning the Death Notes, L helping solve various murder cases, and the main antagonists belong to an organization that must have been planning their attack while Kira was quite active. Not a single mention of Kira's influence is made, and it seems entirely as though the writers forgot that crime was supposed to have gone way down because of people's fear of Kira. Numerous opportunities for connections with Death Note were thrown away. The only two throwbacks (aside from the early cameos) were a villain with a scar similar to Mello's and the fact that, at the end of the movie, L names the boy he's been taking care of, Near. Of course, L change the World's Near looks and acts nothing like the Nate River of the series. Apparently the movie's acting was praised in Japan, but anyone who speaks English will be pulled out of the movie by the entirely emotionless (and quite frequent) English dialogue. Most of the actors didn't know what they were saying and were just pronouncing the sentences syllabically. I do consider L change the World worth seeing for Death Note aficionados, but I don't think most fans will feel it lives up to anything else in the franchise.
Steven Vincent Gee
Super Reviewer
L: Change the World Quotes
There are no approved quotes yet for this movie.