L: Change the World
(2008)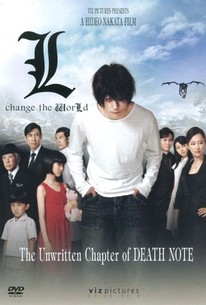 AUDIENCE SCORE
Critic Consensus: No consensus yet.
Movie Info
A detective has a tight deadline to crack a case that could claim the lives of millions in this crime drama, a spin-off from the Desu Notu (Death Note) franchise. L (Kenichi Matsuyama) is a cop with a serious sweet tooth and a fondness for gadgets who has been handed a very important assignment. A group of environmental radicals who want to decimate the Earth's population in the name of a greener world have gotten their hands on a potent man-made virus that could wipe out half the globe if it is released. It's L's job to track down the eco-terrorists and see that the virus is kept under wraps, but after signing his own name in the Death Book, he's given himself only 23 days to bring the radicals to justice. L: Change the World was the opening-night attraction at the 2008 Udine Far East Film Festival and was a major box-office success in Japan.
Critic Reviews for L: Change the World
There are no critic reviews yet for L: Change the World. Keep checking Rotten Tomatoes for updates!
Audience Reviews for L: Change the World
This is the coolest, weirdest, and most amazingly compelling anime-inspired movie series You are L the most brilliant inductive logic criminal mind since Sherlock Holmes and the brooding appearance of a thinner Robert Smith of the Cure. In the process of solving the Death Note case, of the largest serial killer in history, you sacrificed yourself to die in 23 Days. You know you are going to die peacefully that a certainty but what are you going to do with the time you have left. Solve all the Major outstanding criminal cases in the world, for L that takes about two weeks, now what? The plot is much more linear than either of the death note movies. The major dig on the movie is L adversary, K is not as menacing or challenging as Light. K is more like the T2 with an inadequately developed motives and unstoppable momentum to destroy the world via a Viral Agent. My favorite part of the movie is the 5 year old boy that becomes L charge. Ill equipped to deal with the outside world after a lifetime of sheltering by Watari, L must care with a 5 year old mathematical prodigy he names Lear who does not like sweets. His other charge is a teen age girl Maki who is the daughter of K's cowrkers who developed a viral serum. She points out L flaws and tries to make a normal person of him. It is great to see L's out in the real world riding a bicycle, but his life time of eating sugar cubes and doughnuts leaves him short when he's required to be a man of action. After watching the anime and live actions version of Death Note I could live with out any further Light Yagami but I was very interested in more L. L's ability involve gathering all the details about the crimes and mapping this on his voluminous understanding of the world, which he holds himself at arms length from, and narrowing in on the culprit systematically. If you have watched the Death Note movies and find the enigma of L enthralling as I did this is a must see, otherwise I'd say it's a pass.
Bill Cavros
Super Reviewer
L: Change the World Quotes
There are no approved quotes yet for this movie.