The House of Clocks
(1989)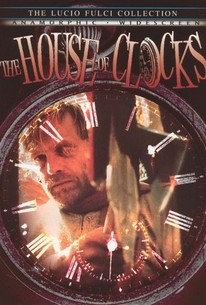 AUDIENCE SCORE
Critic Consensus: No consensus yet.
The House of Clocks Photos
Movie Info
The story of Italian horror maven Lucio Fulci's made-for-television gore-a-thon concerns a creepy dark house inhabited by a dotty old couple, Victor and Sarah, and their uptight maid, Maria, who is soon impaled (complete with close-ups of guts pouring from the wound) when she discovers the couple's nephew and his wife dead in the basement. Three young crooks decide to break in and rob the isolated villa, killing the handyman (Pier Luigi Conti) and the old couple before being trapped inside by vicious Dobermans in the yard. The house is filled with clocks, which all stop when Victor dies. Even the sand in an hourglass stops pouring. Then the clocks begin moving backwards and time follows suit, resulting in bizarre phenomena and eventually reviving the old couple, who get gory revenge. Soon the whole house is full of reanimated zombies, leading first to a bloodbath and then to a quirky and ironic conclusion which plays with the stereotypical "dream ending" in amusing ways. Karina Huff gets a knife jammed through her hand and there are chainsaws, throat-rending zombies, impalements, and numerous gaping stomach wounds. Keith Van Hoven co-stars with Paolo Paoloni, Bettine Milne, and Peter Hintz.
Rating:
NR
Genre:
, ,
Directed By:
Written By:
In Theaters:
On DVD:
Runtime:
Studio:
Dania Film
Critic Reviews for The House of Clocks
There are no critic reviews yet for The House of Clocks. Keep checking Rotten Tomatoes for updates!
Audience Reviews for The House of Clocks
The sweet old couple who are not what they seem are brilliant. Truly deserve to enter the horror canon as adorned creepy villains. While the home invaders might just be the dumbest humans ever. I think it was all the pot they smoked. Otherwise, incredibly gory considering it was made for TV - nails driven through necks, panty sniffing, shot gun blasts, animal cruelty, and did you know that our intestines are actually worms? Story makes absolutely NO SENSE!
R.John Xerxes
½
Lucio Fulci, Italy's own, inimitable master of grue, delivers the groceries in this almost absurdly gory made-for-tv(!) movie. Though not in the same league as "The Beyond" or "City of the Living Dead", both of which "Clocks" vaguely resembles, this surprisingly nasty bit of supernatural hokum showcase many of Fulci's trademark touches (copious splatter, vicious animals, zombies) while also taking its time to build up a bit of tension and atmosphere before the mayhem starts in earnest. The central gimmick, something to do with time going backwards while a trio of scuzzy criminals get chased around a mansion by a creepy elderly couple, makes almost no sense at all... but that's par for the course in a Fulci movie, and besides, you don't go into this sort of thing for the plot. "House of Clocks" is goofy, gory, cruel fun for those with a taste for Italian-flavored horror.
Jonathan Yeager
Awesome later Fulci film. Original plot, creepy atmosphere, blood, horror, old people hellbent on destruction...A nice surprise after films like Murder Rock in the mid 80s.
Al Miller
The House of Clocks Quotes
There are no approved quotes yet for this movie.