La Soufrière - Warten auf eine unausweichliche Katastrophe
(2014)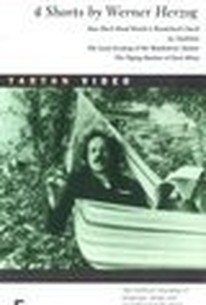 AUDIENCE SCORE
Critic Consensus: No consensus yet.
Movie Info
In 1977, the Caribbean island of Guadeloupe was faced with seemingly unavoidable destruction when La Soufriere, a large and active volcano on the island, came to life and was expected to explode. Guadeloupe was quickly evacuated, but one man, an elderly hermit, refused to leave his tiny campsite near the volcano, and authorities were forced to leave him behind. When filmmaker Werner Herzog heard about the lone man who stayed behind, he was instantly fascinated with his story, and quickly assembled a small camera crew to journey to Guadeloupe and get his story before the volcano destroyed the island. As it happened, Herzog and his crew discovered that three penniless men were left behind, and in La Soufriere he talks to these last citizens of Guadeloupe as they share their thoughts about their lives and their likely death. Herzog and his cameramen also include eerie footage of the abandoned city near the volcano, the dangerous beauty of the volcano itself, and the true story of a disaster which befell the island in 1902. Ironically, for all the scientific evidence of the oncoming disaster and precautions that were taken, La Soufriere failed to erupt, leading Herzog to describe the experience as "an inevitable catastrophe that didn't take place." ~ Mark Deming, Rovi
Rating:
NR
Genre:
, , ,
Directed By:
Runtime:
Cast
Critic Reviews for La Soufrière - Warten auf eine unausweichliche Katastrophe
All Critics (0) | Fresh (0) | Rotten (0)

Not Coming to a Theater Near You
Audience Reviews for La Soufrière - Warten auf eine unausweichliche Katastrophe
A volcano is about to blow. What do you do? If you're German, mad, and called Werner Herzog, you sneak around the army roadblocks and climb the volcano to film a documentary. He explores an abandoned town and speaks to some people who refuse to leave, and then...well, you'll just have to see it for yourself.
Marcus Woolcott
Super Reviewer
½
"The sea was full of dead snakes. They had crawled down during the night by the thousands from the mountain Soufriere and fled into the sea where they promptly drowned." Werner Herzog takes his documentary lens where most fear to tread, the island of Guadeloupe where a seemingly inevitable volcanic eruption has turned a once bustling city into a ghost town. Herzog shows little fear (and common sense) as he scopes out the island and it's very few remaining inhabitants. Intriguing real-life drama that, through no fault of the film makers, is happily anticlimactic.
Randy Tippy
Super Reviewer
½
Herzog and two cameraman buddies arrived on the French Carribbean island of Guadeloupe just days after most residents had evacuated the area around the island's active volcano, La Soufriere ("the Sulphur Mine"). As the mountain issues noxious smoke from underground vents, it seems clear that it'll blow its top at any minute. Grey VOG blankets the sky, casting a pall of doom over an abandoned town. A perfect place to capture dozens of unnerving, dreamlike images of empty streets, abandoned vestiges of civilization. No other director seems more compelled toward apocalyptic nature imagery, reminders of mankind's helplessness before primal order, etc. One photograph of the aftermath of a previous eruption in 1902 is so unreal that Herzog must interject: "This is not a painting." Naturally, Werner and his two-man crew are insane enough to sneak around the military roadblocks and venture to the hellishly steaming caldera some 4500 feet up. Lots of poetic, slow moving imagery of the subterranean gases spreading, lush mountain slopes rent by deep cracks spewing brimstone (what better visual backing for the Wagner and Verdi on the soundtrack?). The Holy Grail of the caldera itself remains unattainable, after the crew is stymied by lethal clouds of sulfur fumes. There's a great shot of Herzog casually strolling down a dirt road, laughing while pointing at the deadly smog that's about 30 feet away. Meanwhile, the assistant cameraman is hauling ass in a car in the opposite direction. When they continue their journey the following day, the mountain still hasn't blown. A small community of homeless men is discovered. These vagrants have nowhere to go, so they can only wait for their deaths. Some have made peace with the "fact" of impending doom (what better way to illustrate the specter of death than with that spooky volcano?), thus here is where we find the moral center of this unusually potent 30 minute short. Some may not appreciate the strange resolution, a few minutes after this sequence, but it works very well to support the death metaphor. The subtitle of the film, "Waiting for an Inevitable Disaster", has a nice double meaning that doesn't hit you till the end. Nature docs about fuzzy creatures and such just don't pack the same punch as many of Herzog's works, which are also satisfying on an anthropological level. See it for free, online (with some serious audio lag, but that's only a problem in a couple of scenes): http://tinyurl.com/soufriere Enjoy!
Kevin McCormick
Discussion Forum
Discuss La Soufrière - Warten auf eine unausweichliche Katastrophe on our Movie forum!
News & Features