La Cabina (The Phone Box) (The Telephone Box)
(1972)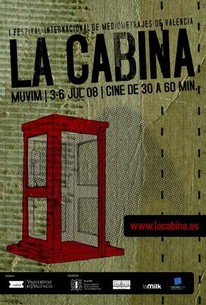 AUDIENCE SCORE
Critic Consensus: No consensus yet.
Movie Info
In this short film, a man gets trapped inside a telephone box. Onlookers unsuccessfully try to free him. Then the men from the telephone company arrive, but relief turns into puzzlement, then horror, as it transpires what they have in store for him...
Critic Reviews for La Cabina (The Phone Box) (The Telephone Box)
There are no critic reviews yet for La Cabina (The Phone Box) (The Telephone Box). Keep checking Rotten Tomatoes for updates!
Audience Reviews for La Cabina (The Phone Box) (The Telephone Box)
Masterpiece of Spanish cinema. Acid, surreal and terrifying. A holy trinity of Hitchcock, Kafka and Orwell would be proud.
Pierluigi Puccini
Super Reviewer
"La Cabina/The Phone Box" is a nice little claustrophobic horror flick that you can find at the moment on Youtube. This short film (34 minutes) hooks your heart and brain at all.
½
As a man is trapped inside a phone box, his predicament quickly becomes a spectacle to the passersby who stop to watch as others try, unsuccessfully, to free him. His entrapment becomes a great source of amusement to the gathering crowds - and, to some degree, to us (though our unease is pricked right from the start by little clues that warn us that something is just not quite right here). As the crowd's glee becomes apparent to the man trapped inside, so his embarrassment and sense of emotional as well as literal isolation becomes more profound. As does his panic, as he soon realises these people, even those making a great show of assistance, don't really care. The story is quite obviously a metaphor for the psychosis us city folk will feel to a lesser or greater degree in our lives. Trapped inside our little boxes surrounded by countless uncaring people in their own little boxes. Any sense of loneliness or dislocation we may feel is only made more pronounced by knowing that the people that surround us don't really care about anything or anyone outside of their own lives. La Cabina is a strange and very intriguing little film that will keep you transfixed right up to it's shocking finale. I first saw it when I was a very small boy and the ending gave me nightmares for a week. It has stuck in my consciousness for ever since. Seeing it a second time, nearly thirty years later, it still has the power to shock (though it's tame by today's standards) and the themes of urban paranoia, dislocation and frustration, behind the story, are just as relevant today - if not more so - as it was in 1972. Incidentally, both times I have watched La Cabina was without any subtitles for the Spanish dialogue. What we have here though, is pure cinematic technique - of telling a story solely in a visual way - expertly rendering the dialogue totally superfluous. It could quite easily be a silent film. Some of today's 'chatty' film-makers should take note.
William Sleet
Super Reviewer
La Cabina (The Phone Box) (The Telephone Box) Quotes
There are no approved quotes yet for this movie.