La casa del fin de los tiempos (The House of the End Times)
(2013)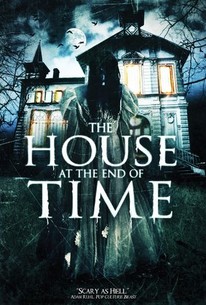 AUDIENCE SCORE
Critic Consensus: No consensus yet.
La casa del fin de los tiempos (The House of the End Times) Photos
Movie Info
Thirty years after being accused of slaying her husband and two children, an elderly woman is placed under house arrest in the same home where the grisly crime occurred. Meanwhile, with the help of a compassionate priest, she seeks eternal peace for the restless souls of her dearly departed.
Critic Reviews for La casa del fin de los tiempos (The House of the End Times)
All Critics (2) | Fresh (2) | Rotten (0)
It may look like a standard haunted house movie on the surface, but this is really a finely crafted supernatural thriller of a very different -- and startlingly complex -- kind.
The great intricacy of its paradoxical plotting only really becomes apparent in retrospect, and will have you mentally revisiting its rooms and corridors for some time afterwards... replays in the head much better than it plays on the screen.
Audience Reviews for La casa del fin de los tiempos (The House of the End Times)
An uneven film that, despite too many clichés, has an ingenious structure and a good share of inspired moments - only it is a pity that these moments are in service of a story that is so silly and sometimes so over the top that it even resembles a comedy, or a self-parody.
Carlos Magalhães
Super Reviewer
I read a review, or parts of a review, that said that compared this film to The Others, The Conjuring, and Oculus before stating that this was better than all of them. Come on now, let's not get carried away. The Others is one of the best horror movies of the 2000s and The Conjuring is really fucking good as well. Oculus was pretty good. I can buy into someone thinking that this was better than Oculus, but not the other two. I refuse to believe that. I guess that this film's emotional core is a little stronger than the other two films mentioned, but that's about it. I think this film, with its more intricate and complex set-up, plays out a little differently than you would normally think. I wouldn't even say that this is a horror movie per se. It's certainly framed as such, for the most part, and it has some solid atmospheric moments, but this is more a drama with some horror/sci-fi elements about what a mother would do in order to save her son and make sure he has a good future ahead of him. Those are some themes that anyone, no matter if you like horror/sci-fi films, can appreciate and gravitate to. And it's good that the film, regardless of what goes on, never loses sight of what it's trying to accomplish with its story. The 'horror' itself is more a means to an end rather than the end all, be all. I thought that was very smart of the film to do. Granted, as mentioned, the film has some really good atmosphere, but the cinematography doesn't really do the film any favors. They do the best they can with what they have. The acting, on the other hand, is pretty damn strong. Ruddy Rodriguez does a great job here, but I was most impressed by the little kid who played Leopoldo. Considering what one expects from child actors, this kid more than exceeds those very low expectations. I cannot complain about the acting at all. The make-up effects, much like the cinematography, leaves a lot to be desired. Don't even get me started on the wig that Ruddy, as an old woman, wore. To be fair, wigs look like shit in high-budgeted Hollywood films, so I can't expect a Venezuelan movie, with a considerably smaller budget, to have great wig work. Another problem with the film is the sentimentality that permeated through the last 15 or so minutes. I get why it was done, but it was a little too heavy-handed for it to really work. But I can't complain about this movie at all. It's got a good, and thoughtful, story with some very good acting. A couple of flaws keep it from reaching a higher level, but I would definitely recommend this if you have Netflix.
Jesse Ortega
Super Reviewer
La casa del fin de los tiempos (The House of the End Times) Quotes
There are no approved quotes yet for this movie.
Discussion Forum
Discuss La casa del fin de los tiempos (The House of the End Times) on our Movie forum!