La chispa de la vida (As Luck Would Have It)
(2013)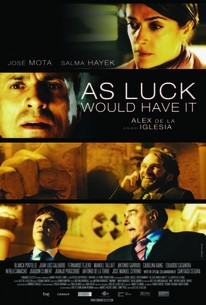 La chispa de la vida (As Luck Would Have It) Videos
La chispa de la vida (As Luck Would Have It) Photos
Movie Info
Roberto (famed Spanish comic José Mota) once had a promising careers in advertising. But now out of work during the economic downturn, he struggles to keep his family afloat and their dire situation a secret from his adoring wife Luisa (Salma Hayek). After yet another dead end interview, it seems like reality will come crashing down on Roberto - until a freak car accident places him at the center of a wild media storm. Realizing his opportunity, Roberto hires a brazen agent to help him leverage his new found fame into fortune, but Luisa begins to worry about what lengths Roberto will go to for his family's security. The new film from beloved cult director Alex de la Iglesia goes into fresh territory for the daring director, a dark comedy/social satire that also works as a deeply felt drama about the devotion of a husband and father. A wild riff on manhood in the modern media world, As Luck Would Have It is a skewed take on the strange world we live in.(c) IFC Films
Critic Reviews for La chispa de la vida (As Luck Would Have It)
Audience Reviews for La chispa de la vida (As Luck Would Have It)
½
With hat in hand, Roberto(Jose Mota) goes to a friend and former colleague in the advertising business desperately looking for work. Sadly, all he comes away with is an offer for a scholarship offer for his son and finds another friend too busy playing video games to see him. In order to cheer himself up, he goes to the hotel in Cartagena where he and his wife Luisa(Salma Hayek) spent their honeymoon. Instead, he finds a historical dig underway, followed by a tragic accident... Even though there might be other similar sounding movies, "As Luck Would Have It" still manages to claim its own ground with just the right mix of caustic satire and heart, including some of Salma Hayek's best work. That ground becomes increasingly important once you realize it can stand for a variety of things. As a spectacular Roman amphitheatre, it might seem obvious but then there is the running thread of an internal criticism of current day Spain that either imports everything or where everybody is leaving. That's not to mention the more general criticism against voluntarily surrendering one's privacy.
Surprising negativity for a surprisingly good film. This film sums up the troubles of Spain in the near past. A man clings to his only bizarre hope of succeeding in the economy - a freak accident that is perilously close to killing him.
John Ballantine
Super Reviewer
The best little film you have never heard of! I saw it again tonight for the 3rd time and it just keeps on getting better and better with each viewing! It evokes strong emotions and opinions within me! I'm angered by the media's attachment to gruesome events to raise their ratings on tv! Perhaps my anger has been misplaced! It should be visited upon us the viewers who reward tv stations for their blood thirsty sensationalism by turning them on in the first place, thus creating the demand! I think everyone can relate to Roberto's (José Mota) situation! He lost more than just a job, he lost his dignity! He knows he'll never get another job because he's a dinosaur among the youthful upstarts entering his field! He feels like he failed his family because he can't support them the way he feels they deserve! If only he could see money isn't everything! That to his family he was a husband and father first and foremost! They never loved him more or loved him less depending on what he earned... they simply loved him unconditionally! Then again in our society you ARE judge by what you earn and ARE treated accordingly! So his fears are VERY real! Was he wrong for trying to provide for his family... that's a question you will have to answer yourself! Personally I can forgive Roberto for his was a decision based on love for his family, it was from the heart! I'm more concerned about any aspect of society that benefits from the pain and suffering of others! EX: Media - Wallstreet! I think it's pretty safe to say we all fell in love with Luisa (Salma Hayek) for the understanding and exceptional love she had for her husband and for being the strong lioness protecting those she loved with great ferocity! It's a fabulous dark satire you won't soon forget! P.S. It's Handkerchief Worthy!
Juli Norwood
La chispa de la vida (As Luck Would Have It) Quotes
There are no approved quotes yet for this movie.
Discussion Forum
Discuss La chispa de la vida (As Luck Would Have It) on our Movie forum!