La Collectionneuse
(1966)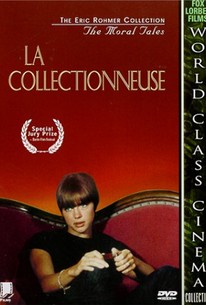 La Collectionneuse Photos
Movie Info
In this film, Patrick Bauchau plays a self-centered young man on summer holiday in the Mediterranean. He finds himself irresistibly attracted to Haydee Politoff, the aloof young woman who shares his St. Tropez villa. The man assumes that the girl's promiscuity is deliberately calculated to prompt him to seduce her.
Critic Reviews for La Collectionneuse
Audience Reviews for La Collectionneuse
"So how was your arty French movie?" - my wife "It was arty and French." - Me "Haha!" - my wife "But I liked it." - me cinetarium.blogspot.com/2016/06/a-cool-criterion-summer-10-rohmers-la.html?zx=fb71c98948166316
Jack Gattanella
½
La Collectionneuse makes an effort and winds up being silly. This is fine if you are easy-going and collect French films from the 60s. If not, you may find the film easy to dislike.
Robert Brogan
Super Reviewer
½
Definitely among the most sophisticated scripts filmed by Rohmer (to which Patrick Bauchau contributed his own part, making this a uniquely personal and intimate portrait with a hyperrealist feel to it. This is one of the first movies by Rohmer that forced me to view a second time (and then more: what a jewel of a movie!) before getting to enjoy it. The first time I watched it, I could only notice the little details, the envelope of things, and was listening to the beautifully convoluted, incredibly refined dialogues (and narration), trying to grasp everything in a single eyeful. But as sometimes noted, the language in La Collectionneuse is very dense and very rich, which may make the film hard to process at once. If not done already, do yourself a favor and invest into the superb Criterion boxset of the Six Contes Moraux (or ask for a nice gift). Not only you get a very substantial number of special features - TV interviews and short films by Rohmer and collaborators (including one of the first short features by Godard, which is eerily similar in style to Rohmer's first efforts), but you'll be able to view Rohmer's films as many times as you want. Few Rohmer's movies hit it off with me the first time I saw them: I instantly adored Ma Nuit chez Maud, for example, but every aspect of it is so absolutely perfect that I was won over completely right away. The other Contes Moraux are somewhat more difficult to digest for various reasons. Back to La Collectionneuse: one needs to surmount the decidedly amoral attitude of the narrator and of his entourage, that brand of dandyism which may still exist in a few remote places among bourgeois intellectuals, but which has more connections with the late XVIIIth and the XIXth centuries than our own. Even with the detachment one may feel when listening to these people speak (especially the Adrien, Haydée and Daniel main trio), Rohmer's cinema is so brilliant, so consummate, and addresses our intelligence with such a perfect, universal approach that it's virtually impossible not to become part of the story. And there is a story in this movie, just as there are stories in every one of the Contes Moraux, notwithstanding all the drying paint cracks one might have heard about these masterpieces. The thread of these stories is not spectacular, but it is as close to reality as it can be. As with the other Contes Moraux (except when depicting a dream as in Chloe in the Afternoon) there is no gimmickry at all, and all pieces of the puzzle are there and very true to life. Because of Rohmer's trust in the viewer's intelligence, his film manages to tell about the daily preoccupations of a quite bleak character, to include us as intrigued witnesses, and to keep us interested until the very end (which is absolutely, totally brilliant, and not predictable). A weird brand of physician (who recently became an art gallery owner) who can be despised for his escapism from life's constraints to individual freedom - for one summer, he says - including from a vaguely meaningful personal relationship with a woman who spends the summer away from him in London. And an überdandy the likes of which are probably on the verge of extinction. Like the other Contes Moraux, La Collectionneuse is an eloquent example of the highest summits that intelligent cinema can reach, provided the director has a vision of his own. And sticks to it no matter what. Rohmer was one of the most idiosyncratic movie directors ever, and taking the time to watch the Contes Moraux illustrates and to understand what all the fuss is about them eventually pays off: all his stylistic decisions and choices will not only make sense, but will almost all appear to be the only possible ones to do so.
First Last
La Collectionneuse Quotes
There are no approved quotes yet for this movie.
Discussion Forum
Discuss La Collectionneuse on our Movie forum!