La France
(2008)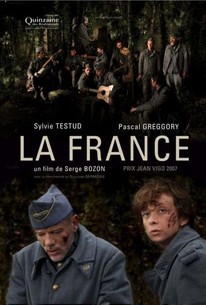 Movie Info
A woman whose husband is away fighting in World War I embarks on an arduous journey after receiving a troubling letter in director Serge Bozon's intimate war drama. The year is 1917, and it's springtime in France. Camille's husband may be fighting in the war, but for this naïve young housewife, life is peaceful. Upon receiving a letter in which her husband curtly ends the couple's relationship without explanation, Camille decides to disguise herself as a man and seek her true love out on the front lines. It's not long before Camille joins up with a small squadron of soldiers who remain completely unaware of her true identity or gender, and as the group makes their way to the battleground Camille's eyes will finally be opened to a reality she could have never imagined -- the reality of France.
Rating:
NR
Genre:
Directed By:
Written By:
In Theaters:
On DVD:
Runtime:
Studio:
Critic Reviews for La France
Audience Reviews for La France
I don't even know how to think about La France, let alone what.

In a lot of ways, I felt that this was an anti-Cold Mountain. The two plots, in many ways, parallel each other, but they are both handled in such different manners. Where CM spares us no Hollywood flourishes, La France is content with flat, bare statements, willfully unadorned. La France goes out of its way in a few places to avoid narrative engagement with the audience. And the ending, instead of filled with passionate reconciliation, ends with a slow, almost sad sexual release.
John Owen
½
a movie that 20 minutes in basically ditches its solid premise--when a soldier's wife gets a letter from her husband ending their relationship, she disguises herself as a man and goes to the front to find him. The movie in my head when I heard that premise is better than this, but its not fair to compare the two, especially since one doesn't exist. There's some really interesting formal stuff here he's trying out--some expressionistic, when her journey feels like its picking up where Night of the Hunter left off, and some new-wave (the abrupt, but totally straight-faced musical numbers are like Godard with a soul). The main chick is hot too. And not just because she's dressed up as a boy.
andrew miller
½
[font=Century Gothic]"La France" takes place in 1917 as Camille(Sylvie Testud) is one of several war brides who climb a local hill daily to see if they can spot their husbands fighting in the nearby war. One day, a letter arrives from her husband, read by her jealous sister(Cecile Reigher), not to write him anymore. Undeterred and quite persistent, she rushes to the front but is stopped before she can leave town. So, she cuts her hair short and dresses in men's clothes. Before long, she meets up with a platoon on its way to the front, their lieutenant(Pascal Greggory) allowing her to tag along...[/font] [font=Century Gothic][/font] [font=Century Gothic]On the surface, that is what "La France" is more or less about but deceptively there is more going on than that(the story even takes a turn in a completely different direction at one point). In fact it reminded me quite a bit of Jim Jarmusch's "Dead Man" where the viewer was left unsure how much of the movie to take literally, especially concerning whether the characters were even alive or dead. For example, Camille who is not sure of what exactly she is looking for comes back from the dead at one point and pulls one heck of a disappearing act. There are other fantastical elements done on such a subtle level that they are easy to miss. By comparison, the musical numbers(the soldiers carry their own makeshift instruments but where did they get the piano from?) and Camille in male drag(dressed like this, Sylvie Testud reminds me of a young Woody Allen) are relatively normal.[/font]
La France Quotes
| | |
| --- | --- |
| The Lieutenant: | He's waiting for us in Atlanta, in Holland, wherever there are orphans full of infamy. |
Discussion Forum
Discuss La France on our Movie forum!