La Jetée (The Pier)
(1962)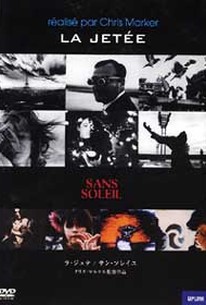 Movie Info
The movie that inspired Terry Gilliam's 12 Monkeys, Chris Marker's La jetée is a landmark of science-fiction filmmaking, a 28-minute masterpiece told almost entirely in still frames. Set in a post-apocalyptic near-future, it tells the story of an unnamed man whose vivid childhood recollections make him the perfect guinea pig for an experiment in time travel. After a lengthy and nightmarish period of conditioning, he is sent into the past, where he falls in love with a woman whom he once saw on a pier. At the experiment's conclusion, he is visited by an advanced race, who offer him the opportunity to journey into their future world, but he instead requests that they send him permanently into the past, where he can remain with the woman of his dreams. A singular experience. ~ Jason Ankeny, Rovi
News & Interviews for La Jetée (The Pier)
Critic Reviews for La Jetée (The Pier)
Audience Reviews for La Jetée (The Pier)
A must-see movie for all sci-fi fans. It appears boring at first, but you gradually sink into the story and in the end you see just how brilliant it really is. It's not for everyone, the film is experimental and slow paced. Overall, it is very good, though.
½
This thirty-minute "photo-roman" (series of narrated stills) tells the story of a man who's sent backwards, then forwards in time to try to find a way to avert a nuclear war, but spends his travels romancing a woman he saw once as a child whose image burned itself into his memory. An interesting science fiction storytelling experiment about the nature of memory that's been extremely influential over the years (it inspired Terry Gilliam's 12 MONKEYS). There is one moving image in the film; blink and you'll miss it...
Well its the first short movie that i've seen using nothng else but still photographs in order to get the story across and although its an interesting idea, i personally don't think its works all that well. The great thing about an actual movie is that the actors are able to properly get across the emotions that their ment to fill across to the audience and although pictures do capture some of that emotion i feel its not as strong as watching a moving picture. Its watchable purely on the fact it is only 30mins long longer than that then i'd probably have a different opinion!
Film Crazy
Super Reviewer
La Jetée (The Pier) Quotes
There are no approved quotes yet for this movie.